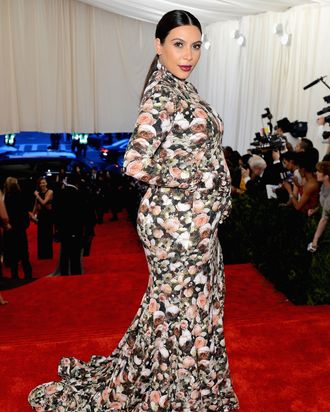 Kim Kardashian West.
Photo: 2013 Getty Images
For several years after the Kardashians became A-plus-listers, they were noticeably absent from the Met Gala. When Kanye West attended without Kim in 2012 (they were already dating), rumors that Anna Wintour had banned the Kardashians surfaced. Whether or not that was true, Kim got the message. On Monday, ahead of the 2019 gala, she revealed on Twitter that she cried over feelings of insecurity when she got home after her first ball.
Kim attended as West's plus-one in 2013, and wore a — um — much-talked-about outfit from Givenchy. But the outfit has aged well (at least it's not boring!) and so has Kim's status as celebrity. What would the first Monday in May be without at least one cast member of Keeping Up With the Kardashians? By the next year, she was on the cover of Vogue and invited to the Met Gala on her own, not as a plus-one. Her outfit was noticeably safer, but given how her first gala went, it's not surprising. Plus, that year's theme was essentially "pretty, safe dresses." Kim, if you're listening, we love you now! Please go back to the couch dress's level of drama.
She's not the only celebrity to be less-than-thrilled about how their Met Gala experience went. Amy Schumer said everyone was "dressed up like a bunch of fucking assholes." (To which I say, yeah, that's the point. It's a costume party.) Tina Fey and Gwyneth Paltrow have also gone on the record against the Met Gala, and four A-listers reportedly skipped last year's ball because it's more networking than partying.