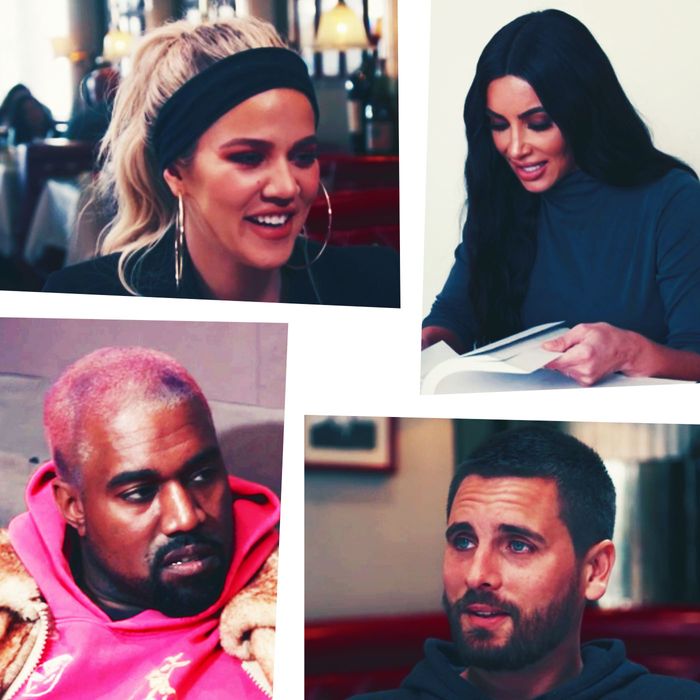 Photo: Courtesy of E! Entertainment
Hello again, dolls! Today we have the great pleasure of reminiscing on yet another wonderful episode of Keeping Up With the Kardashians. This one gave us old-school shenanigans, real-life decisions, and casting changes that might put you in an early grave.
On this week's episode, our A-plot was Kim Kardashian West's law career; our B-plot was Khloé Kardashian returning to the art world; and our C-plot was Mason Dash Disick's first ever official story line. You already know what it is, #LEGGO!
Scene 2:
Kourtney Kardashian dines at a local Malibu establishment with her three children, Mason, Penelope, and Reign Disick. Citing the critical feedback Mason gave her in Bali (that she's on her phone too much, curses too much, and is not "present" when she's with them), Kourtney is making an extra effort to spend quality time with her kids. Mason requests to sits next to his baby brother Reign. First, it seems as though Mason just wanted to be closer to his youngest sibling, but as their meal wore on, it becomes clear it was because Mason felt that Reign had a lot to learn. At only 8 years old, Mason orders food for himself and the table, reminds Reign to put a napkin on his lap before feasting on bread, cuts his brother's food, and then becomes exasperated because while he's having a balanced meal, Reign's just been eating carbs in the form of pita, table bread, and fries (all of which is a far cry from the gluten-free diet their mom once had them on). Kourtney is in awe of Mason's maturity, and feels that he's growing up a bit too fast. She knows it's a part of life, but she's wishing she had more time with him as her little boy, and not this mature young man he's becoming. This dinner was filmed on September 18, 2018, over one month before Mason read Kourtney's parenting skills in Bali.
Scene 3:
In a misguided attempt to call back to a story line that was one of the more contrived ones we've seen in recent years, Scott gifts Khloé with an easel and art supplies. His wish is that she makes a triumphant return to the artist community that she only became a part of in order to teach her mother a lesson about art shaming. Kris loved the paintings Khloé created as her alter ego "Art Vandelay," and though she's an amateur, Scott thinks she has the potential to turn her art career into a moneymaker. Before she puts her paint to the canvas, Scott tells Khloé that he imagines her as a "sexy artist." Really stepping into that role, Khloé takes off both her T-shirt and bra, all while Scott looks on, and covers herself with a painter's smock. Scott sees no problem with this, because the smock is like a "dress." After this, she gets to work painting a "hairless peach," to Scott's delight. Thrilled at her talents, Khloé and Scott call up Kris, hoping to show off Khloé's work. Sadly, Kris doesn't pick up, but a young white woman by the name of Jennifer Lawrence does. Sipping on red wine with Kris, Jennifer tells Khloé, Scott, and Kourtney (who arrived during the call) that she and Kris wouldn't be having as much fun together if they were there. Everyone finds this funny, and before hanging up, Jennifer tells the group, "I love you all so much and you make me proud every day. You're doing amazing, sweeties!"
Once that's done, Kourtney is asked to sit for Khloé's first-ever portrait. She complies, but refuses to put down her salad. Which, as it turns out, didn't affect the artist's rendering of her much, considering the artist's rendering was probably never going to look anything like Kourt. This scene was filmed on November 7, 2018.
Scene 6:
Kim Kardashian West and her longtime friend Allison Statter have dinner and discuss Kim's recent decision to become an attorney. This cameo is quite special, considering Allison does her best to stay as far out of Kim's spotlight as possible! We're thrilled to have you join us, Allison!! Over dinner, Kim explains to Allison how the process will work. She says that you only need 60 college credits to study to become a lawyer, and Kim has 75 college credits. Kim met Jessica Jackson, her current mentor, through Van Jones (Jessica and Van founded #Cut50 an advocating group to reduce the prison population). The plan is that Kim will study law for a least 18 hours a week, and five of those hours will be spent with Jessica herself. Allison is excited that Kim's following her passion, and tells Kim that her dad, Robert Kardashian Sr., would be extremely proud. He always advocated for people, and she sees his kindness and commitment to good will in Kim. Kim appreciates Allison's words, and she's excited to one day see both her and her father's attorney plaques sitting next to one another on her desk. Another goal of Kim's is to give up the "Kim K." persona in ten years and be a full-time lawyer. This scene was filmed on November 6, 2018.
Scene 9:
Just one day after Khloé's artistic efforts, Scott takes her out to lunch to tell the artist about the appraisal session he had regarding her work. Earlier in the day, Scott took Khloé's paintings to an appraiser who said that the "art" wasn't even worth a materials fee. The work was so bad that just her touching the canvas devalued it. Khloé thinks the appraiser may have been basing this opinion solely on "The Kourt," her portrait of Kourtney, but Scott breaks it to her that he felt this way about all of her work. Khloé feels that since art is subjective, this appraiser just may not get her style. She goes on to say that not everyone would like a Van Gogh, so not everyone will like her art. Plus, she's okay making art just for fun, she doesn't need to get paid for it. This scene was filmed on November 8, 2018.
Scene 10:
In San Francisco, at the #Cut50 offices, Kim meets with her teacher, Jessica Jackson, for one of her first lessons. Since Jessica is based in SF, Kim has to fly up once a week for their one-on-one classes. At the beginning of their session, Jessica gifts Kim with three heavy textbooks, which she'll need to study before their next meeting. Kim seems a bit overwhelmed, but confident that she'll be able to get all of her reading done. In her confessional, Kim tells the camera that she's committed, that this will be her life for the next four years, and that she won't have any time for favors, events, or friends because she's going to be focused on getting her degree. This scene was filmed on or around November 6, 2018.
Scene 11/Scene 12:
Kourtney Kardashian and her kids, Mason and Penelope, visit the Watts Empowerment Center with Kris Jenner's boyfriend, Corey Gamble. They are there to donate a ton of toys to the Watts Housing Project in Los Angeles. Kourtney's making a special trip to the center that she and her family helped to rehabilitate last season, because her kids were eager to help others who were less fortunate than them. Earlier in the episode, Kourtney told Khloé that she was tagged in an Instagram post that showed one of the kids at the Watts center riding a bike she donated, so she showed the kids, and that night, Mason couldn't sleep because he was so invested in making sure even more kids got even more fun toys from the family. So, they're donating as much as they can. At the center, Mason and Penelope help the kids pick out what toys they want, play with them, and make sure the kids remember to share.
After their drop off, the family grabs lunch. Corey and Kourtney are particularly interested in how giving back to the community made Mason feel. He enjoyed it, and to mark the occasion, he sat down for his very first Keeping Up confessional! As an official member of the family, we can now take his word as law, and accept that his heart grew seeing kids make use of toys he'd outgrown. Corey's proud of the young man Mason's becoming and jokes that he's going to have to teach the young boy how to mack on ladies. Kourtney says that Mason already knows, because he apparently told one of Kendall's friends that when he gets a cell phone on his upcoming 9th birthday, he wants her number to be the first one he gets. These scenes were filmed on September 18, 2018.
Scene 13:
At home, Kim Kardashian West has a chat with her husband, Kanye West. Kim tells Kanye that she's tired, as she's just gotten done with a 14-hour day. She feels unsure of her ability to go to law school, raise four kids, spend time with her husband, and run her businesses. Kanye tells his wife that she just has to figure out a schedule that works, and it will all work out. In time she'll find a way to focus on everything she cares about. Plus, he adds, they're so blessed to be in this "fire" position to have the tools to even go to law school in this unconventional way, and that blessing by the universe is bound to work out. Kanye also thinks that this is the best way for her to honor her father, and that he'd be so proud of all of Kim's hard work. Kim is comforted by Kanye's words, and they end the conversation with Kanye sort of joking that once Kim's a lawyer she can get him out of all his "fucked up" deals and contracts. This scene was filmed on December 17, 2018.
Scene 16:
At Khloé's place, Scott, and now Kris, are still obsessed with Khloé's made-for-TV career as an artist. Under the advice of Kris, Scott has posted some of Khloé's art on Instagram (the post has been deleted apparently, as it's nowhere to be found) and asked for fans to DM him a price to bid on the work. Khloé's shocked that people are even offering real money. Scott is not, because in his eyes, every piece of work Khloé makes is great! While Khloé is self-conscious about her work, Kris and Scott argue that if they're going to share it with the world, they might as well make money off it. Kris is now very invested in this plan and urges Scott to accept one of these offers, and then make sure Khloé produces more art. Ever the businesswoman, that Kristen Jenner. This scene was filmed on September 21, 2018, almost two months before Khloé took her second turn at being a painter in November 2018.
That's all for this week, Dolls. I will be back soon with another #KUWTKE recap of Keeping Up With Wait, We Saw Mason's Birth and Now He Can Speak, WTF How Old Am I? #KKWLAW