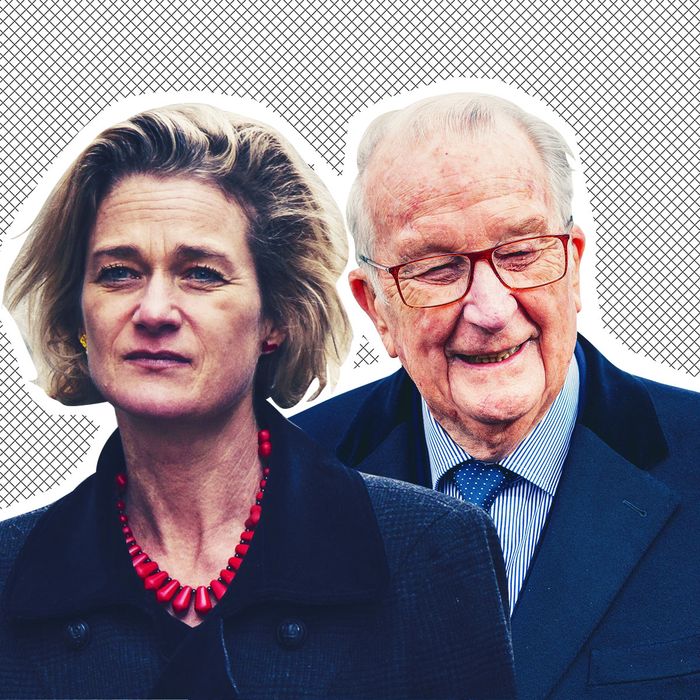 Delphine Boël and former king Albert II of Belgium.
Photo: Getty Images, Shutterstock
While it may sound great to be the secret daughter of a king — in theory, we assume there's a lot of jewels and maybe some castles involved — the tale of Delphine Boël and the man she says is her father, the former king Albert II of Belgium, just sounds incredibly complicated.
So here's the story, courtesy of the New York Times. Boël, 51, is a Belgian artist and noblewoman, who in 2005 came forward to say that Albert (who was king at the time, though he has since abdicated the throne to his son) is her biological father. Her mother, Baroness Sybille de Selys Longchamps, and the former monarch had a long affair in the '60s when he was a prince, according to Boël, which resulted in, well, her.
However, the former king, 84, refused to recognize Boël as his daughter. Thus she filed a lawsuit seeking recognition, for obvious reasons, per People:
Should Boël prevail as a royal heiress, she is in line for a substantial share of the king's fortune, which is conservatively estimated in the hundreds of millions. She may also be entitled to a title, and possibly a distant place in the line of succession.
In November, a Brussels court ordered the retired monarch to give a DNA sample for a paternity test to resolve the suit. The king refused to cooperate, per People, and appealed the decision; after the court saw evidence that the man Boël was raised to believe was her father — industrialist Jacques Boël — was not her biological father, the court ruled last week that the king must submit a DNA sample, and will be fined every day until he does.
A lawyer for the former king, Guy Hiernaux, told the Times, "His Majesty the King will accept the blood test, now that he is compelled to do so." However, he added that the former monarch will only do so "on the condition that the results are kept secret until Belgium's highest court rules on the appeal against the order." The lawyer further said this could "easily" take years.
Sounds like being the potentially secret child of a king involves a lot of paperwork.