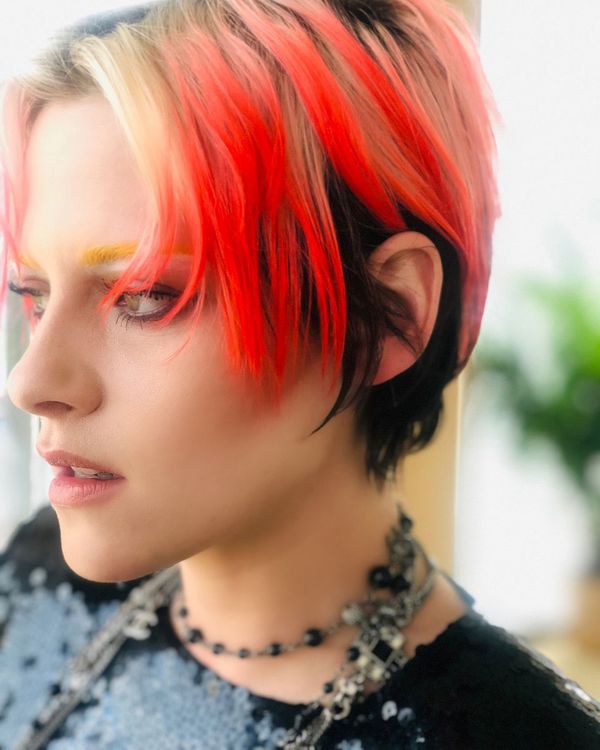 Kristen Stewart.
Photo: Adir Abergel
Kristen Stewart's look for the Met Gala 2019 was inspired by David Bowie and a bottle of nail polish.
"She immediately referenced The Man Who Fell to Earth as her inspiration," said hairstylist Adir Abergel, creative director of Virtue Labs. "I said '100 percent.'"
When you look at stills of Bowie in the film, his hair is, undoubtedly red, but specifically ginger red. Stewart's last night, on the other hand, was blazing neon red, and that's where the nail polish came in.
"We wanted to pay homage to Karl Lagerfeld, which is where the color idea came from," explains Abergel. "But I also wanted to add a '90s heartthrob side to it, so we did a center part and made the hair a little floppy."
The red in question is Chanel's Arancio Vibrante, a bright poppy orange that, yep, popped on the ends of Stewart's hair. L.A. colorist Daniel Moon bleached only her top layers, then painted the red on the ends, the color gradually rising closer to the roots the further back of her head it traveled.
"We matched the reds over FaceTime," laughed Abergel. "It took Daniel only two tries, which is pretty amazing."
Abergel hand-raked Virtue's Un-Frizz Cream through Stewart's ends for separation, while manicurist Ashlie Johnson used the actual polish shade on her nails. Makeup artist Jillian Dempsey bleached Stewart's brows, which was a first for the actress.
"I was so excited to de-virginize them," enthused Dempsey. "I originally wanted to pop them out to a white color, but I removed the bleach prematurely and it was this cool banana color. Instead of toning it down, I just left them raw and punk."
Dempsey amped the brows even further with an underline of white pencil, then dotted her eyelids with Tile Red and Bronze Taupe shades from CHANEL Les 4 Ombres in Blurry Mauve, finishing with a coat of Inimitable Mascara in Noir. The lips stayed nude with Chanel's Rouge Coco Flash in Chicness.
"That was one of our push-the-look moments," explains Dempsey. "I held a fuchsia in front of her mouth just to see it, then a red, and we were like, 'Oh hell, no. It's got to be a nude.'"
A red lip would have been too much, even for camp — a term that first appeared in Moliere's 1671 play The Importance of Scapin, right around the time one character instructs another to "Wear a furious look. Strut about like a drama king." Stewart's look might not have been furious, but it certain had drama.
"Kristen is a modern-day Bowie to me," says Abergel, "She's always played with gender in such a beautiful way, like Bowie did. And she's just as fearless."