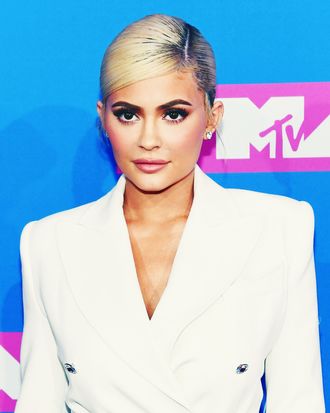 Kylie Jenner.
Photo: Nicholas Hunt/Getty Images for MTV
Since news broke in February that Kylie Jenner's then-best friend Jordyn Woods hooked up with Khloé Kardashian's then-boyfriend (and father of her daughter, True) Tristan Thompson, the beauty magnate has remained staunchly tight-lipped about the whole scandal. Until now, that is.
As it turns out, we get a front row seat to Jenner's reaction to the cheating scandal in this season of Keeping Up With The Kardashians — and boy, this whole thing looks just as intense as you'd imagine.
In a mid-season trailer for the reality show released Thursday night, we see Khloé getting news of the hookup via a phone call from her sister Kourtney — as had been reported — and the screen turns to red as she puts her head in her hands and Kris Jenner tries to wave off tears. "I am broken by so many things," Khloé says in a voice-over. Then, we hear Kris state, "This is going to change their relationship forever." To Kylie, the Kardashian-Jenner matriarch says, "For you and Jordyn, this is like a divorce." That's the moment we finally get Kylie's reaction to it all.
Sitting stoically in a chair, Kylie says to her mother:
"She fucked up."
Kylie also tells Khloé, "Just know I love you," and later, we hear her tell one of her sisters over the phone, "I look in her eyes, she's just really going through it." Meanwhile, there's also a clip of Kim saying of Khloé, "She's going to explode." And apparently — in an unrelated storyline — Kendall Jenner and Kourtney get into a physical fight this season.
Looks like things are really messy over in the Kardashian-Jenner universe.