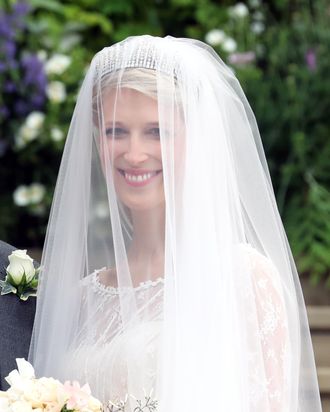 Photo: Chris Jackson/Getty Images
This weekend, exactly one year after Meghan Markle and Prince Harry tied the knot, Lady Gabriella Windsor married financier Thomas Kingston in the same exact spot: St. George's Chapel, where Princess Eugenie also wed in October. To royal wedding enthusiasts, this may seem like a pretty bold move, but we welcome any excuse to celebrate.
Lady Gabriella may not have had a gospel choir, a Givenchy dress, and Oprah, but she did look royally beautiful in a custom tulle and lace gown by Italian designer Luisa Beccaria, a brand Lady Gabriella wrote in a press release that she was "in love with" for a "long time." She described the final result as her "dream dress."
Beccaria and her team began making Lady Gabriella's dress back in January. Beccaria wrote in the same release that her atelier interpreted Lady Gabriella's wishes in a "contemporary way" to highlight the "freshness that she embodies." The look was a "traditional dress yet light and comfortable to wear, to enhance her elegance and ethereal figure," Beccaria added.
The Valencienne écru lace dress had a snug silhouette at the front and an exaggerated back, with a train six meters long and held together by small hand-embroidered flowers. Beccaria also incorporated various layers of organza and tulle underneath to create volume and a subtle shade of blush, a detail Lady Gabriella "dreamed of having." Beccaria also designed the six blush-colored dresses of Lady Gabriella's bridesmaids.
Of course, the icing on top was a Russian Fringe-style diamond tiara, worn by the grandmother of the bride, the Princess of Greece on her wedding day to Prince George, Duke of Kent, fourth son of King George V of England.
Lady Gabriella's family and friends were there to celebrate, although the Duchess of Sussex was notably absent, as she stayed home to care for baby Archie.