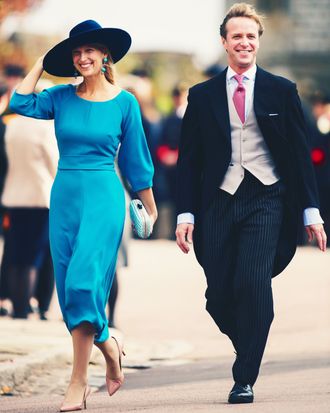 Lady Gabriella Windsor and Thomas Kingston.
Photo: REX/Shutterstock
May 19, 2018 was a hallowed day for royal-watching enthusiasts. Meghan Markle, an American actress of Suits fame, married Prince Harry, best known for being a British prince. The ceremony, held at St. George's Chapel, Windsor Castle, was gorgeous; there were flowers, a gospel choir, a Givenchy dress, and Oprah. And now, one year later, we can devote our weekend to celebrating the anniversary of that holy day.
Erm, unless we get confused by this other royal wedding that's happening at that same spot, that is.
It's pretty bold to have a royal wedding over that same May weekend, just one year later. But that's exactly what Lady Gabriella Windsor — daughter of the Prince and Princess Michael of Kent — is doing this weekend, when she weds finance guy Thomas Kingston on Saturday (which, to be fair, is May 18, so one day before the royal wedding anniversary) at St. George's Chapel (which, again in fairness, is also where Princess Eugenie got married in October).
Lady Gabriella and Thomas got engaged back in August, per Town & Country, and while some royals won't be in attendance on their big day (Prince William is reportedly skipping it for soccer reasons, and new parents the Duke and Duchess of Sussex probably aren't making it either), Queen Elizabeth is expected to be there. Other than that, the thing is happening around the same time, at the same place, and on the same day of the week (a Saturday) as Meghan and Prince Harry's wedding last year. But unlike the Sussexes, the event is apparently "private" a.k.a. it will not be televised.
We can only imagine being this confident.