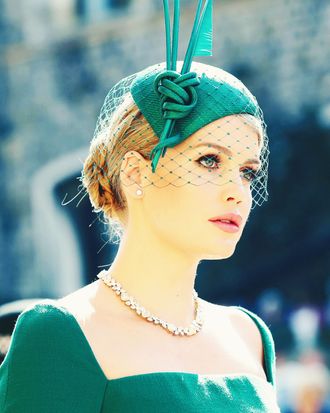 Photo: Gareth Fuller/WPA Pool/Getty Images
With all the fervor surrounding the recent birth of Archie, baby to Prince Harry and Meghan Markle, it can be easy for us to forget that there's a plethora of other royals and royal-adjacents to speculate wildly about. There's the Marchioness of Cholmondeley (pronounced Marchoness of Chumley), for example, with whom Prince William has allegedly been very "chumley" (haha). There's the tiny Prince George, who seems to know something we don't. And there's Lady Kitty Spencer, 28, niece of Princess Diana, who is NOT dating Michael Lewis, author of the 2003 book Moneyball, E! News says.
She is, however, reportedly dating Michael Lewis, the 60-year-old multimillionaire owner of the clothing company Whistles which, according to E!, "can be found in some Bloomingdale's around the U.S." Rumors of the pair's romance reportedly started floating around last summer, and earlier this month, they were photographed leaving the Mark Hotel in New York shortly after one another (concrete proof of love).
Like so many children of the rich and powerful, Kitty — who was raised mostly in Cape Town, South Africa — has found her way into the world of modeling. She works as a brand ambassador for Bulgari, and walking in Dolce and Gabbana's Milan Fashion Week show in September 2018. Previously, she dated property magnate Niccolo Barattieri di San Pietro, 48, for four years. They split in 2017, and he has since started dating Elizabeth Hurley, 53.
If this all sounds like nothing more than the unrelatable romantic peregrinations of the mega-wealthy, here's a message from Kitty to help keep things in perspective.
Makes you think.