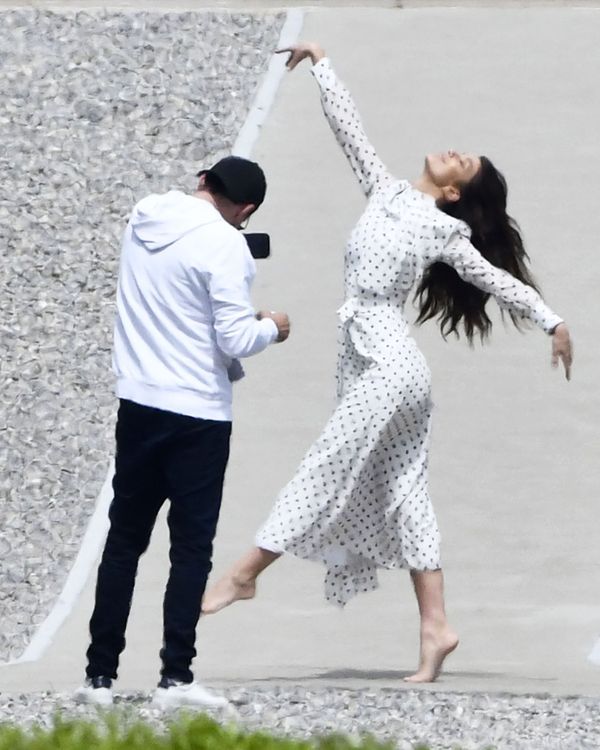 Leonardo DiCaprio and Camila Morrone.
Photo: DFGRI/MEGA
Academy Award–winning actor Leonardo DiCaprio, 44, has recently added a new, impressive role to his repertoire: devoted Instagram Boyfriend to his 21-year-old girlfriend Camila Morrone.
The actor and his model-slash-actress girlfriend — who was born in 1997, the year the seminal film Titanic came out — were caught by the paparazzi mid-Instagram-boyfriend photo shoot in the south of France, while in town for the Cannes Film Festival. The couple, who People notes have been spotted hanging out at the celebrity-friendly Hotel du Cap-Eden-Roc in Antibes, France, seem to have gotten the Instagram Boyfriend routine down to a science. Morrone wore a chic polka-dotted dress and went shoeless as she posed like one of Degas's ballerinas; DiCaprio, in turn, diligently took photographs.
Sadly for all of us, while we have no doubt that an artist like DiCaprio has top-notch Instagram Boyfriend photography skills, the shoeless image has not been shared to social media. (At least, not yet.) However, Morrone did post a picture of herself wearing that very same outfit — but also some shoes, if you can believe it:
With all the rumblings about whether DiCaprio might propose to Morrone — back in December, a "source close to the pair" kept telling Us Weekly that they "are very serious" and "everyone is saying that marriage could be soon for them" — one can only wonder if one day "soon" (we guess!), the actor will be taking on a different role: Instagram Husband.