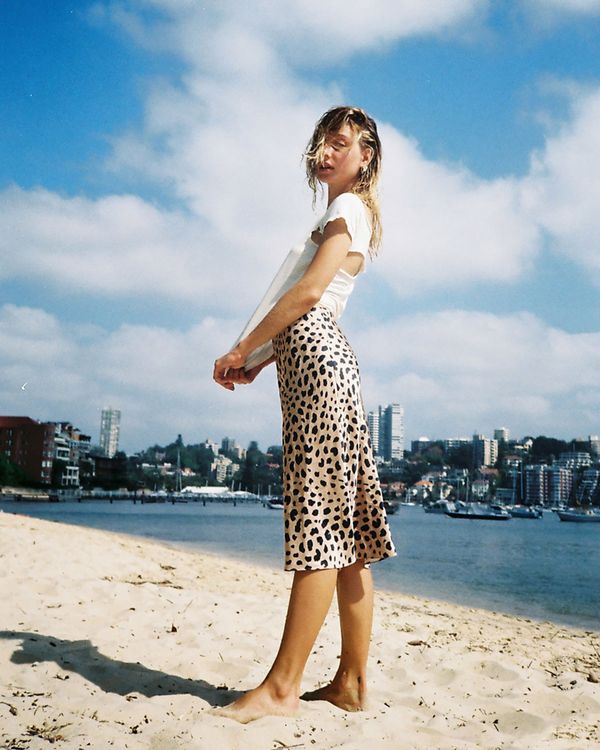 Photo: Courtesy of Realisation Par
Last summer, every influencer on Instagram seemed to be wearing the same skirt: a silky, calf-length, leopard-print midi from the French brand Réalisation Par. Over the winter, the trend went dormant, but now that it's spring, every third woman in Soho is wearing leopard from the waist down.
Like the chambray off-the-shoulder Zara dress that spawned its own Tumblr, or the gray fleece finance-bro vest that inspired an Instagram account, the skirt is so ubiquitous that there's now a social media account dedicated to documenting it. But unlike those trends, this one is actually … kind of cute? The skirt is fun. It's flattering. Like all the best "French-girl" trends, it's very easy to wear. Usually, when you see something everywhere, you want it less, but the skirt is hard to hate.
Eager to join the sisterhood of the leopard skirt too? Scroll below to shop a few of our favorites at all price points.
If You Want the Original
Photo: Brown, Indya
Because it's always more rewarding to buy the real thing, right?
Available in sizes XXS–XL.
If You're on a Budget
H&M comes through with a version that costs under $20.
Available in sizes 0–14.
If You Want to Show Off Your Curves
This one hugs your body, costs under $30, and goes up to size 22.
Available in sizes 6–22.
The Most Photo-Realistic Print
For anyone who is nitpicky about looking like an actual feline.
Available in sizes S–L.
The Best Dupe
It looks almost exactly like the original, but for half the price.
Available in sizes M–L.
If You Like Heavier Fabric
This neoprene pencil skirt is work-appropriate, too.
Available in sizes 14–28.
From the Brand to Know
Danish brand Ganni is influencer catnip … no pun intended.
Available in sizes DK 34–DK 40.
The Fancy Date-Night Skirt
The flounce makes it more feminine than the others.
Available in sizes 2–10.
If You Love a Maxi Length
Raey's silk version falls longer than the rest, but a high back slit adds a modern touch.
Available in sizes 2–10.
If you buy something through our links, New York may earn an affiliate commission.