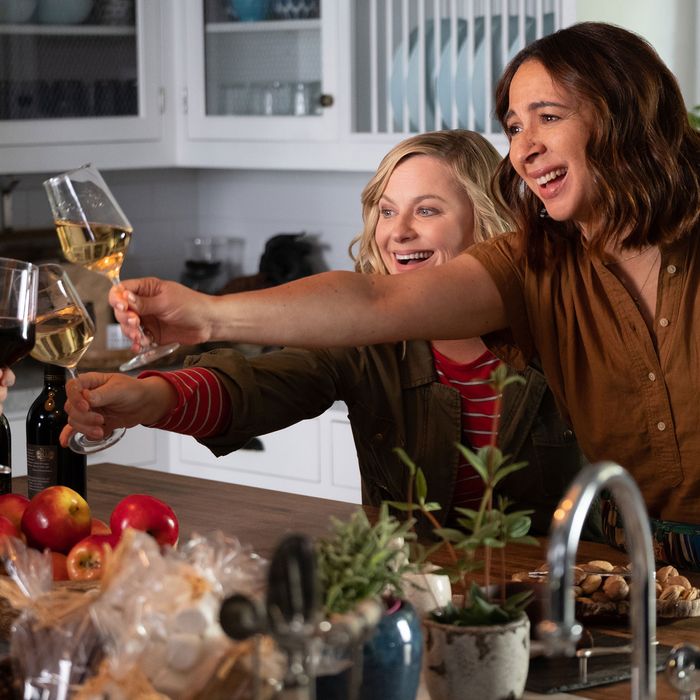 One of the worst parts about being sober is that there aren't that many default fun things to do in a group anymore. Like, not everyone wants to spend a weekend knitting, hiking, drawing, and talking about acupuncture. Eating comes close, but it's too brief.
In Amy Poehler's new Netflix movie Wine Country, a group of women gather in Napa to celebrate their longtime friend Rebecca's 50th birthday. Rebecca is played by Rachel Dratch, and the group is made up of other comedy all-stars like Tina Fey, Maya Rudolph, and Ana Gasteyer. They laugh, they cry, they drink wine, they commiserate about romantic relationships gone awry, they fight, they get injured, and they come away closer than they were before. It was fun, I laughed. It was sad, too.
I watched it alone, but later I asked my sober friend Logan to also watch it (in retrospect, it would have been fun if we'd watched it together). "Frankly it's unrealistic that they're all still drinking," she texted halfway through. "I feel like if it were real life, the odds would be that at least one of them would have stopped."
Right? I wish I'd thought of that, but it's what the movie was missing. And honestly they could have mined that for comedic potential, too. For instance, Rebecca could have been sober and annoyed by being forced to go on a wine weekend to celebrate her own birthday. Instead of being gloomy and morose, though, like, "Oh no, I can't have fun anymore," she could have been like, "You guys are ruining your lives, but feel free to email me later and I can share some literature with you." Because, I mean, of all the problems that did come up — bad marriages, health scares, job loss — out of seven women, how has none of them had to come to terms with alcohol?
That said, few scenes in the movie really involved booze all that much. One scene involved one of them getting very drunk (Rudolph), but it was more of an aside than essential to the plot (and the joke itself felt more requisite than actually funny). The movie made me think that when I turn 50, I'd like to gather a group of my own friends to talk and laugh about shame and failure. One of my favorite scenes in the movie is when the group realizes that famous TED talker, author, and shame researcher Brené Brown is at the restaurant that they've gone to, and they flip out.
My favorite line, though, was almost a throwaway, from Tina Fey's sort of gruff, loner character Tammy: "I'm uncomfortable in any one-on-one situation unless I can win," she says at the bar to Ana Gasteyer's overachieving Catherine. Actually, maybe Tammy could have been the sober one, and she could have taught them all about the beauty and vulnerability of life without alcohol. Hilarious, right? You know??