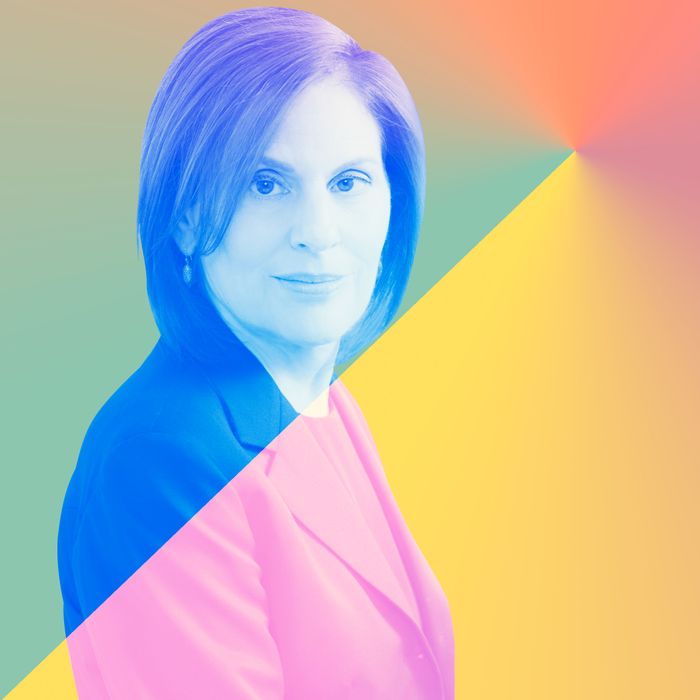 If you've never heard of the Fragrance Foundation, Linda Levy is out to rectify that.
The Fragrance Foundation is the official organization of the fragrance industry, sort of like CFDA is to fashion. All of the major beauty companies, retailers, and fragrance houses are members, it hosts panels and seminars throughout the year, and its annual Fragrance Foundation Awards honors the best fragrances, packaging, ad campaigns, and notable personalities (this year's is Wednesday, June 5).
When The Fragrance Foundation was founded in 1949, its otherwise-straightforward original mission statement ended with this rather tasty morsel: "to promote perfumes and the secrets of how French women wore and took care of them."
Mon dieu. When Linda Levy became president in 2017, she updated it to the short, succinct and more universal phrase: "To inspire the world to discover the artistry and passion of fragrance." She also, in no short order, focused on widening its membership base to include more indie perfumers (including Carine Roitfeld, who recently added perfume maker to her résumé), supporting emerging talent, and expanding its education offerings, both within the industry and to the consumer.
And this woman knows her consumer. With a career that began at Lancome, followed by Estée Lauder, Levy joined Macy's in 2007, where she eventually was appointed Omni Group VP, Fragrances overseeing all things perfume-related. Under her tutelage, the flagship store's annual Spring Scent Event, which coincided with its famous Flower Show, became a much more immersive and engaging experience.
"We had perfumers on videos, ingredient maps, and diffuser booths so the customer could be engulfed in the scent," she explains. "Funzie stuff like that."
"Funzie" is one word Levy likes to pepper her speech with. "Correcto," "major wow," and "ridic" are others. She is a classic born-and-bred New Yorker: tough when she needs to be but a kick to be around. Her energy fills a room as soon as she enters. I call her the fairy godmother of fragrance, and it's an appellation she doesn't deny.
"I am hysterical about fragrance," she confirms. "It's ridic."
Levy spoke with the Cut about never using cookbooks, her favorite candles, and why her purse smells so good.
What's your definition of beauty?
Beauty is the best version of any place, person, or object.
In this era of "clean" beauty, is there any area where you're not that "clean"?
I cannot quit Ponds cucumber Cold Cream. It's a throwback to the art of face painting.
I think about ___ a lot.
My posture.
What discontinued product do you mourn?
Chanel Rouge Allure in Foudroyante.
What is your morning beauty routine?
Clinique Moisture Surge, then Clarins Tonic Body Treatment Oil on my face and elbows before showering, where I use Olay Shea Butter or Frédéric Malle Shower Creme in Portrait of a Lady. Origins Precipitation or Hello Bello baby moisturizer on my body and Estée Lauder Advanced Night Repair and Resilience Lift on my face.
What's the last beauty product you use every night?
Le Labo Basil Sweet Almond Hand Cream.
What aspect of your beauty routine tends to be neglected?
The infrequency of massages.
Mascara of choice:
Lancome Definicils in Black.
Foundation of choice:
Bobbi Brown Foundation Stick in Sand.
What, if anything, is usually on your lips?
Tom Ford Lipstick in Casablanca.
What shade, if any, is usually on your toes and/or hands?
Tom Ford Bordeaux Lust, Plum Noir or Viper.
Facial cleanser of choice:
Clarins Gentle Foaming Cleanser.
Fragrance of choice:
My fragrance choices are quite extensive! I have a tremendous collection and always carry travel-size bottles in my bag. Right now, I'd say my selection includes — but is definitely not limited to — Frederic Malle Portrait of A Lady, Diptyque Philoskykos, Le Labo Bergamot, Creed Floralie, Cartier Carat, Bond No. 9 Little Italy, Narciso Rodriguez, Diana Vreeland Staggeringly Beautiful, Tom Ford Neroli Portofino, and Atelier Cologne Iris Rebelle. I always have a travel size bottle or two in my purse.
Scented candle of choice:
Otherland Kindling, Nest Bamboo, and Cire Trudon Salta.
Purse of choice:
Save My Bag, Prada, Gucci, Coccinelle. I love all things Italian.
Any secret skills?
I am a great cook without following recipes.
If you could have one ridiculous indulgence, what would it be?
A private swimming pool.
What annoying thing can put you in a bad mood?
A bad hair day.
What would the name of your autobiography be?
Being the Best I Can.
Who would star as you in the film adaptation?
Julianne Moore.
What word do you overuse?
"Correcto!"
What do you think Pantone's color of 2020 should be?
Periwinkle. The color is soothing for the eyes and wearable for so many skin tones.
What beauty product still needs to be invented?
Moisturizing gloves that actually work.
What is always in your fridge?
Wine, water, and nail polishes.
Comfort food:
Cheeseburgers, chicken parmigiana, and meatballs.
What food would you never eat?
Oysters, clams, and mussels.
What do you foresee as the top beauty trends for the remainder of 2019?
Replace, reuse, and recycle! Conscious consumers are seeking safe practices, transparency, and green chemistry in fragrance development.
If you won the Power Ball tomorrow, what are the first five things you would do? (after, of course, donating the majority of it to your top charities…)
After donating to Curing All Cancer, I would travel via private jet to Sicily, Barcelona, Tokyo, etc. I would give away all my clothes and start over with a shopping spree at Bergdorf Goodman. My first stop is the Linda Fargo Shop. I would install a private swimming pool. And I would hire a personal trainer with a great sense of humor.