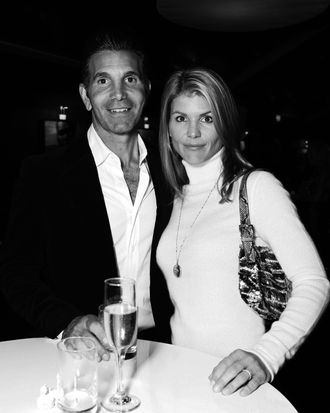 Scammers seek discreet fixer.
Photo: A Rodriguez/BEI/REX/Shutterstock
Having recently realized that their bad actions in the college cheating scandal could translate to prison time, accused scammers Lori Loughlin and Mossimo Giannulli have reportedly been shopping around for an expert willing to rebuild their image.
CNN reports that the couple has met with at least two crisis-management professionals, one of whom told the outlet: "I truly believe she [Loughlin] thinks she's going to not serve jail time and return to work." (Both Netflix and the Hallmark Channel have severed ties with the actor.) The source added that the alleged grifters floated Martha Stewart as a reputation rehab success story, and a possible model for their own reclaimed narrative. The source did not take on the Loughlin-Giannullis as clients.
Loughlin and Giannulli have officially pleaded not guilty on charges of conspiracy to commit fraud and conspiracy to commit money laundering, each of which carries a maximum penalty of 20 years in prison. The couple allegedly paid a total of $500,000 to have scammer-in-chief William "Rick" Singer fake athletic records for their two daughters — vlogger Olivia Jade and Isabella Rose — positioning them as recruits for the University of Southern California's crew team. Neither teen had ever rowed, and one of them (hint: the influencer who may have been complicit) didn't even "care" about college. But the scheme worked, and both were admitted.
Sources close to Loughlin and Giannulli have claimed that the couple didn't know bribery was illegal, and that they are just "parents who simply wanted to make sure that their daughters got into a good school." The second crisis-management expert who spoke with CNN said they advised the pair to play that angle, "when the time is right."
For now, though, that fixer allegedly recommended that Loughlin and Giannulli focus on "resolving the legal situation" before they attempt to redirect public opinion. That's what the couple's spokesperson says they plan to do: "There are people out there throwing their names at the media that are trying to get attention," publicist Elizabeth Much told CNN. "At this time Lori and Mossimo are focusing on their legal case. There is no crisis PR team being brought in."