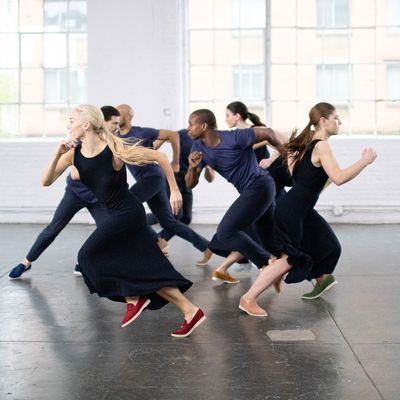 Photo: RXM Creative Adrian Nina/Courtesy of Loro Piana
We might be living in an era dominated by dad sneakers, but Loro Piana has resisted the urge to jump on the bandwagon. The Italian brand knows that its customers prefer the classics, especially their signature white-soled Open Walk shoes.
The style is celebrating its 15th anniversary, and in honor of the occasion, Loro Piana asked choreographer David Parsons to create a short piece called The Rare Walk, inspired by the simple act of walking. It'll be performed at the Joyce Theater, but you can watch it in the video below — all the dancers are wearing the Open Walks, of course, so you can really see how they move.
Loro Piana has also opened up a pop-up shop in the Meatpacking District where you can find pre-made versions of the Open Walk or customize your own pair. In addition, the shop carries the brand's ultra-minimal Traveller sneakers, which will be also available in women's sizes as a worldwide exclusive, and the ultra-light 360 trainer, a sock style made from merino wool.
Eventually, the space will become the brand's flagship, but it'll remain open in this iteration for the next month. Scroll down to see some campaign images, and shop the collection here.
Loro Piana, 3 Ninth Avenue, New York.