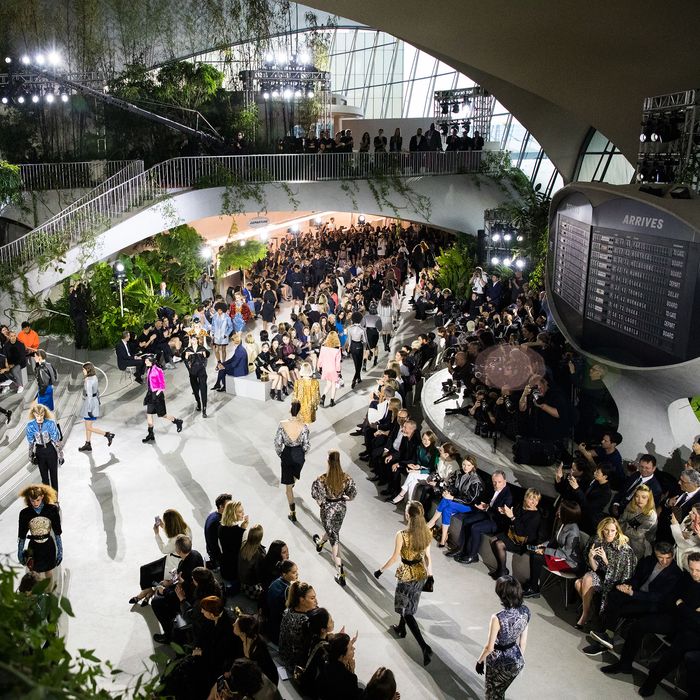 Believe it or not, there was a brief period in American history when airports weren't the fifth circle of hell. People used to dress up for flights, like they would a special occasion. Sweatpants were not the norm.
On Wednesday night, Louis Vuitton reminded everyone of this mythologized "golden era" of travel by bringing its resort 2020 fashion show to John F. Kennedy Airport in Queens. The event was hosted at the TWA Flight Center, a futuristic-looking terminal that was designed by architect Eero Saarinen in 1955 and opened in 1962. There, guests were transported back to the days of airport Champagne and Mad Men style. The front-row seats were located under the original Departures and Arrivals board, in Saarinen's plush, sunken lounge. Overgrown plants filled the space, making it seem frozen in time. Actress Indya Moore described it as "post-apocalyptic."
"This place was forgotten for 20 years," said designer Nicolas Ghesquière. He actually passed through the TWA terminal in the late '90s, and said the architectural marvel was something he could "never forget."
On May 15, the restored space will reopen as part of the massive new TWA Hotel, which includes 512 rooms filled with Eames furniture, a rooftop pool overlooking Jet Blue's runway, and a ballroom. It's an ideal place to crash after a delayed flight or escape for a weekend.
"I'm from Australia, so arriving at JFK is a huge achievement," said actor Cody Fern of the destination.

The collection itself included nods to the setting, with winged tops, leather aviator caps, and prints of the New York skyline, specifically the Chrysler Building's Art Deco design. But it also extended the themes of Ghesquière's last two collections, like 1980's color, attitude, and volume. The result was frenetic and diverse (not unlike an airport) and felt like it had an eye toward the future — some handbags even had video screens built into their shell.
After the show, 1,000-something attendees were shuttled in black sprinter vans over to MoMA PS1 for an after-party. (Talk about glamorous travel.) There, meatballs and Roberta's pizza became a great equalizer, as celebrities like Emma Stone, Justin Theroux, and Ruth Negga all enjoyed New York's local delicacies. Plus, more Champagne.
Model Karlie Kloss, who sat front row, had a flight to catch right after the show — unfortunately out of LaGuardia Airport. Not a problem, though: a helicopter was waiting nearby.
*A version of this article appears in the May 13, 2019, issue of New York Magazine. Subscribe Now!