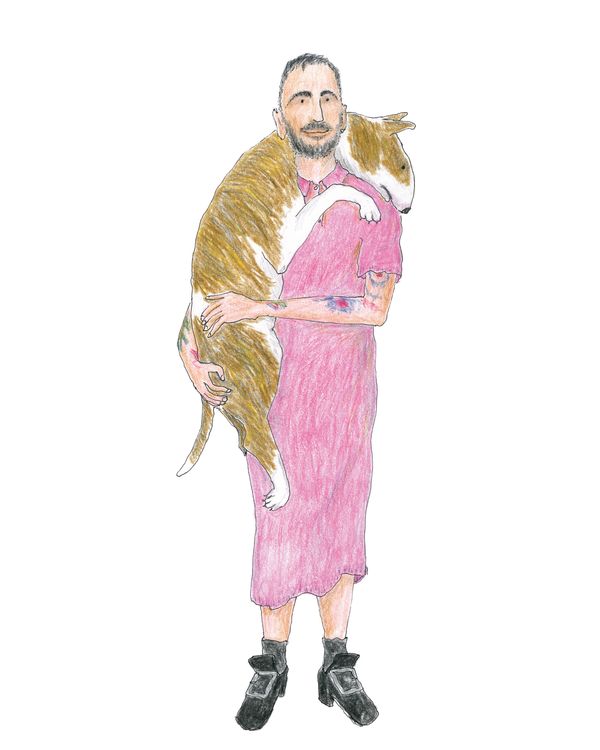 Photo: Illustrations by Grace Coddington, photos courtesy Phaidon.
It's been a long time since anyone read me a bedtime story, but if I were to read one now as an adult, this new picture book by Grace Coddington, illustrating the life of Marc Jacobs, would certainly be it. Starting in 1993 with the famous "grunge" collection for Perry Ellis, the designer's journey is full of surprises, bursts of color, and stylish characters — all of which Coddington captures with her signature light touch. Takaaki Matsumoto did the loopy text design.
Below, an excerpt from Marc Jacobs Illustrated, which just hit shelves.
Spring / Summer 1993
It was the year when I first met, and the start of my friendship with, Sofia Coppola. It was also the year I collaborated with Sonic Youth on the video for their song "Sugar Kane." The 1993 Grunge collection, presented almost six months earlier, in fall 1992 would be my last for Perry Ellis, where I'd been working since 1988.
It remains one of my favorite collections because I'd followed my instincts, listening to the music of Sonic Youth and Nirvana. Looking at the photographs of Corinne Day, Juergen Teller, and David Sims. It started with a plaid flannel shirt I bought off a street vendor at St. Mark's Place for two dollars. Kevyn Aucoin did the makeup and Oribe did the hair for this show, and the direction was "no hair and no makeup."
The New York Times review said that a "typical outfit looks as if it were put together with the eyes closed in a very dark room." They didn't mean this is as a compliment. I was almost immediately fired. —Marc Jacobs
Fall / Winter 1994
My first show under my label after being fired from Perry Ellis. Christy Turlington, who stopped walking in fashion shows in 1989 when she went back to school, kept her promise and returned to the runway for the last time — just for me! Amber Valletta and Shalom Harlow closed the show as Bride and Bride.
The show was held at Tony Shafrazi 's loft, and we bussed the girls there from my studio, which was just around the block. I was thinking about glam rock, and the soundtrack to the show was the New York Dolls.
Donatella Versace came to this show, and when it was over, she gave me a standing ovation. —Marc Jacobs
Spring / Summer 1995 and Fall / Winter 1995
Spring / Summer 1995: Thinking about kitsch and camp and looking at all the Guy Bourdin ads he'd done for Charles Jourdan, first commissioned in the 1960s. Stephanie Seymour and Tatjana Patitz were the sexiest girls I'd ever had in a show. Red Riding Hood, tropical, nautical, western, forties. I was loving costumes and clichés of all sorts. This show had more looks than I've ever had and went on, and on, and on … Everytime Kate Moss appeared on the runway, the Beastie Boys' "Girls" would play while she walked.
Fall / Winter 1995: "This was the first of a few mod-inspired collections. The music for this show was Elastica. We played the CD from start to finish. Judith Leiber made the handbags for this show. We transformed one of the models into the spitting image of Edie Sedgwick. Michele Hicks, Emma Balfour, and Stella Tennant were my favorites in this show, as well as Jaime Rishar, who was the "bride." —Marc Jacobs
Spring / Summer 2004 and Fall / Winter 2004
Spring / Summer 2004: Among the inspirations for this collection was the documentary The Cockettes, about the legendary performers in San Francisco in the 1970s. Also a bit of The Great Gatsby, my favorite book and literary character: Daisy Buchanan.
Fall / Winter 2004: John Currin's painting "Rachel in Fur" inspired this collection. Rachel (Feinstein) would then appear in the ads reproducing that painting. Jodie Kidd was the new model that season I was so excited by. —Marc Jacobs
Spring / Summer 2006
High-school-girl horror movies Carrie and Heathers were the starting point of this collection, and the show opened with the Penn State Nittany Lions Marching Band performing "Smells Like Teen Spirit," led by a baton twirler, and the audience cheered like crazy. —Marc Jacobs
Fall / Winter 2007
I was thinking about seventies couture from Rome, and the boutique at the Olympic Towers in New York of Roberta di Camerino, the Italian accessories designer whose trellis of "R"s predated Gucci's "G"s by about a year after WWII. There were knit caps with felt brims by Stephen Jones, and the music was Henryk Górecki's Symphony of Sorrowful Songs.
It was the first time we revealed all the models at the very start of the show. They were posed by me, frozen in groups like mannequins, inspired by the interior designer Bob Currie. In particular, his windows for Henri Bendel, where he was the display director in the 1970s. —Marc Jacobs
Spring / Summer 2011
Huge lacquered straw hats by Stephen Jones, hair inspired by Grace Coddington, frizzed-out-to-there by Guido Palau, super glam makeup by François Nars. We bleached the girls' eyebrows for an extreme seventies look. Incredible feather chokers by Lemarié. Flowers in the hair — full seventies.
Inspirations included Saint Laurent and Missoni. Golden Indian summer colors of pinks, ochres, ambers, rust, berries, and plums. After this show Bill Cunningham remarked, "I've just seen the entire seventies flash before my eyes. —Marc Jacobs
Spring / Summer 2016
This one all started when gay marriage was legalized in the United States and how proud I felt to be American at that moment. That led to the color palette of all reds, whites, and blues.
Bette Midler was all over my inspiration boards. Feather boas, sequined and beaded laces, and trims on Ziegfeld girl bras and shorts. Showgirls, glam rock.
The show was held at the legendary Ziegfeld Theater in New York. All the models walked the red carpet, and that was projected onto screens in the theater as the audience watched the models walk through the rows to present themselves live. An orchestra onstage performed the Beastie Boys' "Sabotage," and there was Beth Ditto in a white Lesage-embroidered gown. —Marc Jacobs
Fall / Winter 2016
Twisted goth fantasy. Oversized and elongated crochet-trimmed and embroidered sorority sweaters, as well as a reference to Kurt Cobain's cheerleader sweater with the Bobcats logo. Legendary New York drag performance artist Tabboo! collaborated with us on the prints, patterns, and motifs for this show.
The shoes and boots had extraordinary platforms and heels. Any sharp turn could lead to a fall, so the girls all had to be great walkers.
Another one of my favorites — it seems I love and often revisit the dark "fallen angels" of my fashion fantasies. Incredible Marcel waves gelled into the girls' hair, and fantastic gothic black eyes by François Nars inspired by Kiss and Tim Burton.
Lady Gaga (as Stefani) modeled in this show, walking casually amongst the other girls. Marilyn Manson, Missy Elliott, Genesis P-Orridge, Sissy Spacek, and Susan Sarandon were among the many who starred in this incredible ad campaign by David Sims. —Marc Jacobs
Spring / Summer 2018
We called this show "Somewhere," after Sofia Coppola's movie of the same name. Last season was all about an urban landscape, and this season the idea was just somewhere, I'm not sure where. The show began in absolute silence, and for the finale the models returned to music from Alfredo Catalani 's opera La Wally, featured in the eighties French New Wave film Diva.
I was inspired by Yves Saint Laurent's legendary African-inspired collection, abstract exotic prints from the pages of Diana Vreeland's Vogue, amazing prints from the sixties, the personal style of model Jamie Bochert, and also a photo of Charly's grandmother who looked so chic in a pastel-colored shirt with a brightly colored cardigan and matching trousers. I overscaled the proportions, added a turban, fantastic dangling earrings, and a sport -inspired bag. —Marc Jacobs