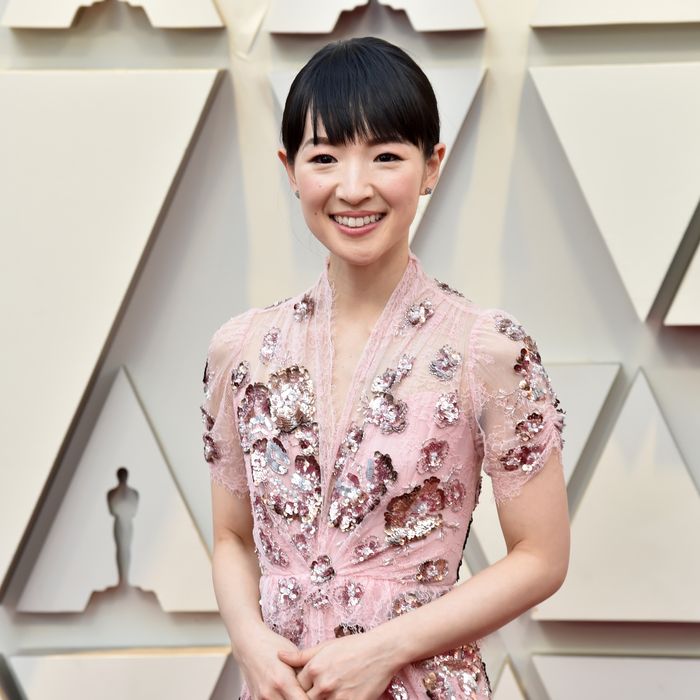 Photo: Jeff Kravitz/FilmMagic
Now that your bookshelves are all decluttered because their contents no longer sparked joy, perhaps there is room for one more volume?
Queen of removing obstacles to one's flourishing, Marie Kondo, is reportedly writing a book for kids called Kiki & Jax: The Life-Changing Magic of Friendship, a sweet addition to her prosperous media presence that includes a Netflix series and several other books including The Life-Changing Magic of Tidying Up. Kondo's self-help empire revolves around the philosophy that anything in one's home which does not make one happy can be thrown out. She also preaches various methods of folding and binning.
Kondo described the book on social media earlier this week as "a timeless story about friendship…I hope that the characters of Kiki and Jax will inspire children and families to tidy and embrace joy!" The Hollywood Reporter noted details of the book's plot on Saturday:
"[T]wo best friends, Kiki, a collector, and Jax, a sorter, always enjoy spending time together and having fun but when Kiki's things start to get in the way, they must decide whether they can make room for what always 'sparks joy' for them: their friendship."
Salina Yoon collaborated with Kondo as a co-writer and illustrator. Yoon wrote in a recent Instagram post, "The friendship story of Kiki and Jax presents Marie Kondo's spark joy philosophy in a fun, meaningful, and accessible way for children."
Kids are probably better-equipped to "embrace joy" than the rest of us. Nevertheless, Kiki & Jax goes on sale November 5.