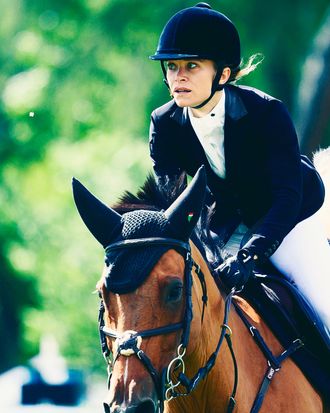 Mary-Kate Olsen rides a horse.
Photo: Samuel de Roman/Getty Images
It's a big week for equine news, in that Lil Nas X and Billy Ray Cyrus rode till they couldn't no more and let us ride along; I learned about a woman with an astounding talent for galloping on her hands and feet as if they were hooves; and Mary-Kate Olsen reportedly rode two separate horses in an international competition.
According to TMZ, the child-star-turned-fashion-designer caught "major air" at the Longines Global Champions Tour at Madrid's Club de Campo Villa on Thursday. Fulfilling a prophecy originally written in 1994's How the West Was Fun, Olsen "soared over fences quickly enough to guide Naomi" — one of her two horses — "to a sixth-place finish," the tabloid reports. Unfortunately, she was disqualified from her event with Fatum, her other horse, for "an error of course."
MK's equestrian pursuits have been known to The Cut since at least 2016, the year she competed against Jessica Springsteen, daughter of New Jersey's finest. Although the Olsen twin first started riding at age 6, she took a brief hiatus during her time at NYU. But once a horse girl, always a horse girl, as they say.
Anyway, I would like to tell you that MK took her horse to the Old Town Road, in celebration of the day's long-awaited music video release, but in the interest of being extra-fancy I will instead say that MK took her horse to the Olde Towne Road.
This has been a horse blog, thank you and good night.