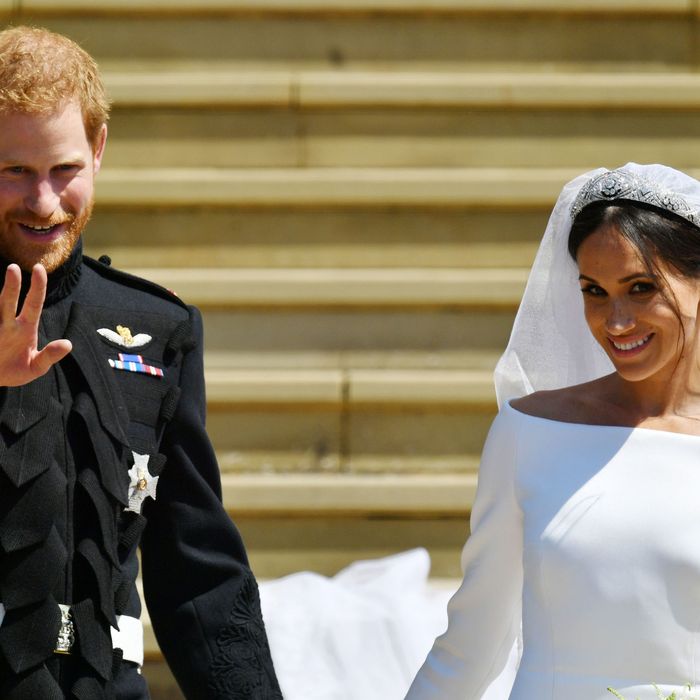 Photo: BEN BIRCHALL/AFP/Getty Images
A mere two weeks after Prince Harry giddily announced his wife, Meghan Markle, had given birth to their royal baby (soon thereafter named Archie), the couple is celebrating another milestone: their first wedding anniversary. While it's doubtful anyone on Earth forgot that happened, it's alarming that a year has elapsed. It's felt like ten years.
To commemorate the iconic event, the couple published an Instagram slideshow on Sunday of never-before-seen photographs from the matrimonial day, many of them taken inside Windsor Castle's St. George's Chapel. The 14 images in the series start out more intimate — Prince Harry heading to the ceremony with his best man, Prince William, Meghan holding hands with her mother, Doria Ragland, in the chapel, and separate shots of Harry and Meghan signing the wedding register. This constellation of royal portraits gives way to shots of the public's frenzied reception of the newlyweds.
Another photograph shows Harry holding out his thumb before a car, as if hitchhiking to his own wedding. The lighting throughout the Windsor Castle grounds is, as always, spectacular.
The caption accompanying the slideshow says that the couple chose the song "This Little Light of Mine" to play during their recessional. It includes a gracious message from Harry and Meghan, which reads, "Thank you for all the love and support from so many of you around the world. Each of you made this day even more meaningful."
You can view the full slideshow below.