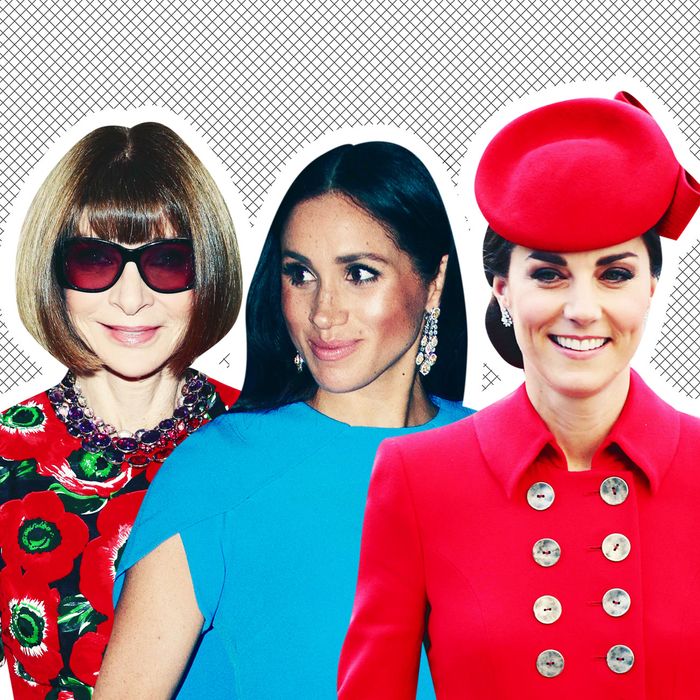 Just imagine the whimsical hats!
Photo: Getty Images
Of all the many big-name humans Anna Wintour could invite to her annual fancy party — of all the famous people she could, in keeping with the event's "camp" theme, force into sequin suits, or wondrous feathered capes, or sparkling disco-ball helmets, or highlighter-hued cowboy suits — the Vogue editor-in-chief would most like to see Kate Middleton and Meghan Markle at the Met Gala. I cannot tell you why she craves this regal pair's attendance, for I do not occupy Wintour's brain space. I can only regurgitate for you what my sources tell me.
My source, in this case, is the Today show's Jenna Bush Hager, who interviewed Wintour on Friday morning, in advance of Monday's ball. Bush Hager was mostly unsuccessful in prying secrets from behind her subject's signature black sunglasses, but she did get Wintour to reveal her white whale of attendees. Asked if she had a "dream guest" who has so far failed to make an appearance at the gala, Wintour immediately responded:
Yes, definitely: I would love to have the Duchess of Sussex and the Duchess of Cambridge together. They can leave their husbands at home; it's the two of them I want.
Wintour also noted that, with respect to the 2019 dress code, she wants guests "to take risks, to be fearless, to have fun with fashion"; "to laugh at [themselves] a little bit, too." To be clear, both duchesses have developed finely tuned personal styles. They are very good at clothes, but certainly risky sartorial choices do not fall within palace purview, and this strikes me as unfair. Let them live a little, I say.
Granted, Wintour did not explicitly extend a last-minute invite/command, but I think she should. Not only would a night on the town maybe help banish those depressingly tenacious feud rumors, but also, and this is the most important thing: Imagine Kate Middleton doing camp. Imagine her suit-coats, their shoulder pads inflated to five times their current size, expanded into geometric shapes and bedazzled with glittering epaulettes. Imagine, if you will, the hats that might come out for the occasion: tall wavy ones à la Princess Eugenie; multi-tiered netted affairs balanced like big plumed wedding cakes atop Kate's crown. Give the people what they want! Give them royal hats.