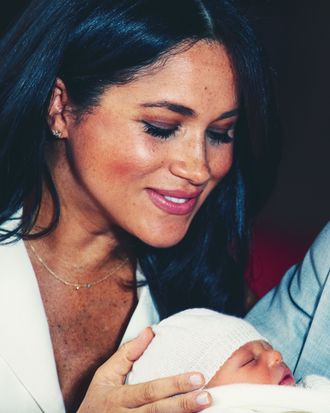 Meghan Markle and Baby Archie.
Photo: Dominic Lipinski/Getty Images
It was just a little over two weeks ago that Meghan Markle gave birth to her first child with Prince Harry: a boy (perhaps prophetically) named Archie Harrison Mountbatten-Windsor. And already, the new mom is reportedly planning a trip to take her royal baby to her hometown of Los Angeles for a visit. Once she's ready to travel with him, that is.
According to a report from US Weekly, the Duke and Duchess of Sussex are dead-set on giving their son as normal a life as possible. That's why, for instance, they decided not to give the infant a royal courtesy title at birth. And it's also why, according to an "insider" who spoke with US Weekly, the couple feels it's important that young Archie — who may or may not be named after a frozen-grape-loving (now dead) cat, a comic book character, or Prince George's alter-ego — spend some time in America getting to know his mother's roots. According to the outlet:
"For Meghan, it's just as important for Archie to learn about her family history as it is for him to learn about his royal ancestors, so she plans to go on a trip to L.A. with him once she's comfortable taking him on a plane."
So exactly when might that trip be? That's unclear. But we do hope Meghan and Archie have time to stop by Sqirl while they're in Los Angeles.