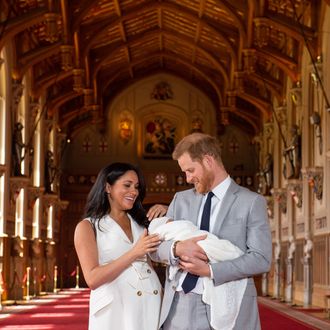 The Sussexes!
Photo: Dominic Lipinski/WPA-Rota/Press Association Images
In the early hours of Monday morning, Meghan Markle gave birth to her first royal baby with husband Prince Harry. On Wednesday, the Duke and Duchess of Sussex posed for their first public pictures with their new son – and later that day, revealed his name: Archie Harrison Mountbatten-Windsor. The Sussexes have reportedly elected to not give the child a royal title at this time.
The highly anticipated first pictures of the new family of three were taken by the royal press pool at St. George's Hall at Windsor Castle in the U.K. The family lives nearby on the estate — at Frogmore Cottage — and Prince Harry adorably announced the birth of his son on Monday morning on the Windsor Castle grounds, in front of a horse stable.
Prince Harry and Meghan also spoke about their new son in an interview during the photo call. Meghan said she has the "two best guys in the world." She added about her son: "He has the sweetest temperament. He's really calm …" (At this moment, Prince Harry said, "I don't know where he gets that from.") She continued, "He's just been a dream. It's been a special couple of days."
The couple also shared additional photos on their Instagram account:
They later shared an image of the baby with Queen Elizabeth, Prince Philip, and Meghan's mother Doria Ragland:
The baby was reportedly wrapped up in a blanket by GH Hurt & Son Ltd. during the photo call. The shawls are part of a royal tradition; Kate Middleton and Prince William's children Prince George, Princess Charlotte, and Prince Louis were also presented in the company's blankets as newborns, apparently as was Prince Charles back in the day.
The Sussexes revealed that Meghan was pregnant in October, and the duchess later shared she was due in "late April, early May." Since then, the world waited (rather impatiently) for the baby's arrival. People placed bets on the baby's sex and name, and after April ended, some speculated that the baby may have already been born in secret. (Buckingham Palace quickly shot that rumor down).
But on Monday, we learned that Meghan had reportedly gone into labor on Sunday night and been taken to a London hospital (according to the Daily Mail), and the palace shared that then-still-unnamed Baby Boy Sussex (a Taurus!) had been born at 5:26 that morning, weighing 7 pounds, 3 ounces. For two days, the world — and apparently also Kate Middleton and Prince William — hoped for more information on the little guy.
And now, the wait is finally over. Welcome to the royal world, Archie!
This post has been updated.