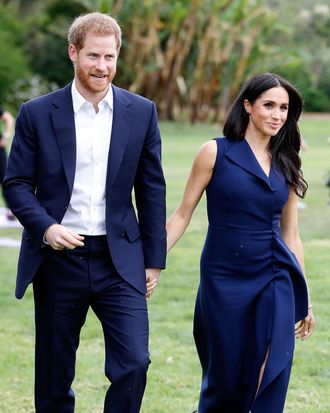 Prince Harry and Meghan Markle.
Photo: 2018 Getty Images
What an exciting time for us all: On Monday, May 6, 2019, Meghan Markle and Prince Harry welcomed their first royal baby — an as-yet-unnamed boy!
The world patiently (and let's be honest, also impatiently) waited for the birth of young Baby Boy Sussex (we're calling him that for now, okay?), so you can imagine just how thrilled everyone was when he finally arrived and his presence was formally announced via gold easel.
Many of us celebrated by screaming into the heavens "Huzzah!," while others — fancier, more famous others, people we are actively following — celebrated by extending well-wishes to the Duke and Duchess of Sussex. Here, some of the best reactions to the happy news of the newest royal baby's birth.
• Michelle Obama, who had a "secret" power meeting with Meghan back in December, tweeted that she and former President Barack Obama are "thrilled" and "can't wait" to meet the little boy.
• Daniel Martin, Meghan's close friend and makeup artist, wrote on Instagram that he is a proud #guncle.
• Kate Middleton, Prince William, Queen Elizabeth, Prince Charles, and a whole bunch of other royals have so far said in a statement that they have been "informed" of and are "delighted" by the news. The Cambridges also "liked" the Sussexes's birth announcement on Instagram.
• Prince Harry's uncle Prince Andrew went a step further and posted his congratulations on Instagram.
• The design house of Oscar de la Renta posted an image of Meghan in one of its gowns, as well as a nice note.
• Current U.K. prime minister Theresa May sent her best wishes.
• Tennis legend Billie Jean King tweeted out her congratulations.
• As did, uh, Paddington …
Everyone's so happy!