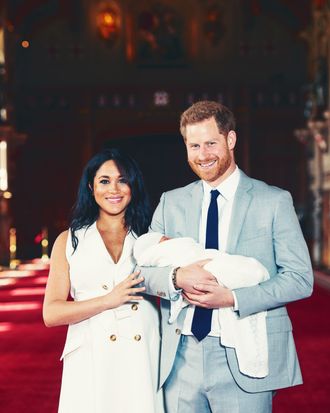 Meghan Markle and Prince Harry with their new son.
Photo: Dominic Lipinski/Getty Images
This week, Meghan Markle gave birth to her first royal baby, a boy, with Prince Harry! The littlest royal arrived on Monday, May 6, weighing seven pounds and three ounces.
Earlier on Monday, Buckingham Palace had announced that Meghan "went into labor in the early hours of this morning." Prince Harry was by her side during the delivery, according to a statement. The Sussexes announced the birth in an Instagram post (which later apparently broke the record as the most-liked royal post, per Hello).
They also presented their child to the world for the first time on Wednesday at Windsor Castle, and later revealed that they named him Archie Harrison Mountbatten-Windsor.
On Monday, Buckingham Palace announced that Meghan's mom Doria Ragland is with the happy family at their home of Frogmore Cottage. Prince Harry also announced the birth himself for the press – appearing in front of horse stables on the Windsor, U.K., property to share his baby joy. Off-camera on the day of the baby's birth, he also told reporters that he only had "about two hours' sleep," according to ITV.
And later that same day, details of the birth were placed on a traditional gold easel outside of Buckingham Palace:
There had been rumors that Meghan planned to have a home birth at Frogmore Cottage, but the Daily Mail reports that she instead "was taken to hospital [in London] on Sunday by Harry and their Scotland Yard security team." The report further states that the duchess "was whisked off amid such secrecy that even senior royals weren't told."
After the birth on Monday, a number of high-profile people, including Michelle Obama, have extended their congratulations publicly to the happy family.
The Duke and Duchess of Sussex announced that they (and in turn, we) were expecting a royal baby shortly after arriving in Australia for a 16-day royal tour. The pregnancy announcement was made in October on their former Instagram page, @KensingtonRoyal, which they shared with Prince William and Kate Middleton back in the day (erm, earlier in April). They revealed the child was due in spring 2019 in that post. (Spot-on!)
This is joyous news for the couple (and us), as they (and we) will also be celebrating their royal wedding anniversary on May 19. The day was memorable — Windsor Castle, Meghan's Givenchy gown, a gospel choir, Oprah Winfrey in attendance — and we're glad to have another cause for celebration.
With the baby's arrival, the royal family's line of succession extends a jot further. Currently, Queen Elizabeth is the monarch (to state the obvious), followed by Prince Charles, Prince William, Prince George, Princess Charlotte, the elusive Prince Louis, and new father Prince Harry. The baby now takes the position of seventh in line for the throne, knocking Prince Andrew down a spot.
We're just so happy for Meghan and Prince Harry, and for ourselves!
This post has been updated.