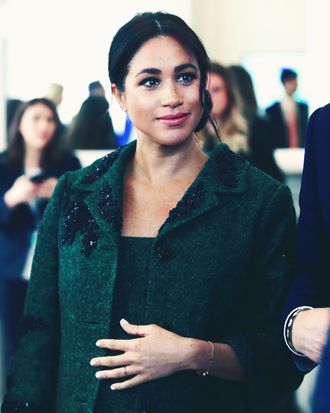 Meghan Markle.
Photo: Chris Jackson/Getty Images
Listen to your heart, when he or she's calling for you
Listen to your heart, there's nothing else you can do
I don't know when you're coming (or if you're here already)
And I don't know why
But listen to your heart … before … you decide whether or not you believe Meghan Markle has already given birth and is hiding her child from the public, which in my opinion she is allowed to do, or whether you believe she is still pregnant!
Ahh. That was a beautiful rendition of Roxette's 1988 hit, "Listen to Your Heart," written in response to the idea, held by many online, that Meghan Markle has already had her baby and is keeping that fact a secret from the public, maybe so she can have just one second to experience new motherhood without having to deal with hoards of leering strangers.
When Meghan Markle revealed her due date in January, she said the new royal would arrive some time around late April or early May. Though it's only May 2, E! news reports that there are a few things leading royal-watchers to believe the baby is here on Earth with us as we speak. Oh my! For example, Markle didn't attend Easter Sunday church services, and then Kate Middleton and Prince William allegedly visited her and Prince Harry at their home. HMM??
And then, Queen Elizabeth II also visited Meghan Markle and Prince Harry at their home, allegedly! Or should we say … Queen Elizabeth II allegedly visited Meghan Markle and Prince Harry and … A BABY? AT THEIR HOME?
And then it was announced that Harry would be visiting the Netherlands on the May 8 and May 9. Making plans? Before the baby arrived?? To visit the Netherlands?! On May 8 and May 9?!?
A representative for the Palace confirmed to E! News, "The baby hasn't been born yet."