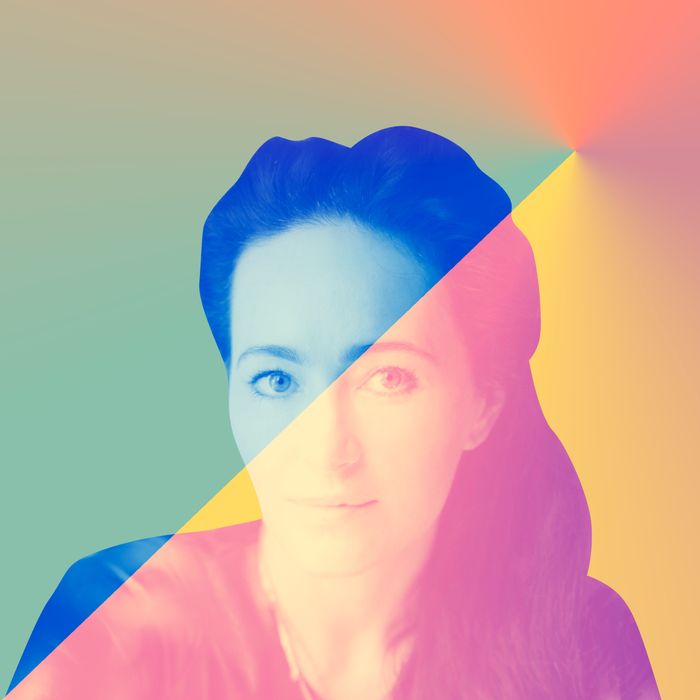 No one could accuse Melanie Simon of not being able to make a decision. At 18, after graduating from junior college, she changed course days before enrolling at San Francisco State.
"Something just said, 'You're going the wrong way,'" she remembers. "So I became a snowboard instructor at Mammoth Mountain" — a California ski resort — "and I met so many entrepreneurs doing that. It opened up a whole new world to me."
Simon eventually went on to create the ZIIP, an at-home nanocurrent facial device that lets you zap your way to better skin. Launched in 2015, the ZIIP has a cult following. It has been photographed in Emily Weiss's bathroom and included on "best in beauty" lists from Vogue to Allure. (The Strategist has covered it multiple times.) But before Simon could become the founder and CEO of a buzzy beauty company, she had an entrepreneurial journey of her own ahead of her.
It started when she bought a house, then, in short order, became a landlord, enrolled in beauty school, got licensed in California, sold the house, moved to Montecito, and opened a practice in endermologie, a procedure that targets cellulite via a suction-and-massage device.
"I'd go to every gym and hair salon in that town, telling everyone I was doing this one thing very well," she says. "Endermologie taught me a ton about lymphatic drainage, which became so useful."
Problem was, she'd never been much of a leg girl.
"I was always much more wooed by the face," says Simon. "The skin and the structure of it is just majestic."
So she switched her focus and in 2005 used a good portion of that real-estate bounty to become a Biologique Recherche specialist, which meant using the brand's signature electric-current Remodeling Face machine in most of the facial treatments.
Needless to say, sparks flew — between Simon and the currents.
"I immediately felt this draw toward the electricity," she remembers. "I started researching how it affected skin and how lower-range electrical currents resulted in benefits that lasted longer."
She found a low-range current device called the Perfector, made by the company behind the heart-assisting pacemaker, and paired it with her micro-current. Clients raved.
She didn't stop there. What if there were an at-home version that could be programmed by an app? When she shared her idea with David Mason, an industrial engineer in Silicon Valley, he became her partner and set about designing the device. In 2015, ZIIP was born. Last year, ZIIP's original Golden conducting gel was joined by the Silver, and two more come out in the fall.
"Every ZIIP is like a mini computer," says Simon, "and every ZIIP circuit board has the potential to get 10 million different waveforms. There's so much it can do. It's almost like an iPhone."
Simon spoke with the Cut about what makes for a good facial, what she puts on her own skin, and what she thinks the future of beauty holds.
What's your definition of beauty? Confidence with flair.
What is the opposite of beautiful? Overdone. Too much filler, too much contour, too much highlighter. I would take well-loved skin over that any day.
What do you think when you hear the term clean beauty? I think it is a good direction for the industry to go in, but there are certain ingredients that are not clean that will give amazing results (the phenol in Biologique Recherche P50 1970, for example), so I support using those, too. It is all about using products correctly and responsibly.
What is your morning beauty routine? I like to take it easy in the a.m. I splash on a little Koh Gen Do or Bioderma micellar water and rinse with cool water. Sometimes I ZIIP, especially if I need to really have impressive skin. Otherwise I try to take it easy by starting with serums on a clean face and then moisturizer and finishing fluid, like Biologique's Le Grand Finishing Fluid, Omorovicza Magic Moisture Mist or Dr. Zelens Probiotic Spray.
What's the last beauty product you use every night? I change daily, but I do love mixing Biologique Recherche's Masque Vernix and Creme VIPO2 together before bed. I also drink lots of water and try to get at least eight hours of sleep. I also try taking my LivOn Labs Lypo-Spheric Glutathione supplement.
Who cuts your hair? Rob Hollis in Jackson Hole, and Svetlana Hansen in Montecito colors it, but I travel so much I have to cheat on them both.
What constitutes a good facial? Knowledge, confidence, the ability to become one with someone who cares about your skin as much as you do.
What ruins a facial? Consistency and uniformity. You always have to switch it up.
What's your favorite spa? The Ritz in Paris and the Four Seasons on the Big Island in Hawaii.
What aspect of your beauty routine tends to be neglected? My nails, my roots, and dental checkups.
What do you line your eyes with? Chanel Stylo Yeux Waterproof Eyeliner in dark brown. Dark brown instead of black makes all the difference.
Foundation? Jane Iredale Pressed Powder is my base and serves as physical sunblock as well.
What, if anything, is usually on your lips? Mac Patisserie or Chantecaille Mirth Brilliant Gloss.
What's your fragrance of choice? Not a fragrance lover, but I do spray the tiniest bit of West by Ellis Brooklyn on my clothes.
Deodorant of choice? Secret. I get real body odor, so I have to use real deodorant. When I'm not around people I will offend by my scent, I skip deodorant all together.
What discontinued product do you mourn? Tatcha Kissu Lip Mask.
Bath or shower? Bath, with Malin+Goetz Rum shower gel and the original Dove bar soap.
Shampoo/Conditioner of choice? David Mallett.
Scented candle of choice? Cire Trudon Positano may be the loveliest candle you will ever smell.
What was your first beauty-product obsession? Clinique pressed powder. I was 15 and it made me break out and I didn't really know how to use it, nor could I afford it, but I was obsessed. All the girls with money in high school had it, which made the rest of us want it even more.
Work shoe of choice? Once a treatment starts, I am barefoot.
What is your classic uniform? Long, extravagant dresses or gauzy, high-waisted skirts with crop tops. The more glamorous, the better. The only requirement is that they have sleeves that roll up.
What do you splurge on? Giza by Sferra bed linens. You know how when your favorite sweater or pajamas get worn in, they perfectly cup your body? That's how I feel when I sleep on these sheets.
If you could have one ridiculous indulgence, what would it be? A private island. I look them up online all the time.
What was the most recent interesting conversation you had? I don't kiss and tell, but it was with Rose-Marie Swift, and fortunately we filmed it all for YouTube. She is a spark of light in a dark room crowded with people who all want the same thing. I will always look up to her as an entrepreneur.
What tiny thing can make your day? Really fragrant garden roses. I'm like a bee, always dipping my head into the cups of the roses I see to check if they have a scent.
What annoying thing can put you in a bad mood? When someone making or serving a latte wears too much perfume and it ends up tasting like patchouli. (Although someone is probably thinking about launching a company right this second that has perfume-inspired coffee or tea.)
Last great book you read? The Old Man and the Sea.
What would be the name of your autobiography? Life Through Electric Glasses.
Who would star as you in the film adaptation? Natalie Portman.
What do you disagree with others about? The idea that everyone — or anyone — should and could start a company. It is a huge amount of effort and learning, and not everyone is cut out for it. But if you have a great idea and the passion, then do whatever it takes to make it happen, but don't get swept up in entrepreneur fever.
Favorite smell? Narcissus.
Least-favorite smell? The smell of the water in a vase after flowers die. It's what I imagine death smells like.
What do you think Pantone's color of 2020 should be? Galaxy blue. There is deep and massive potential ahead, but it is full of uncertainty. I think 2020 is about letting ourselves get lost in the dark so we can see that we are made up of stardust ourselves.
What beauty product still needs to be invented? A perfect clean mascara that does all the tricks and comes with a remover that instantly dissolves the mascara to remove it whenever you want, no water necessary.
What makes your skin crawl? Ketchup.
What's your favorite comfort food? Whirley-Pop popcorn with real butter and sea salt on a tray with ginger ale, sliced cheddar cheese, and Pink Lady apples.
What's the most impressive dish you make? Migas, a Spanish dish dubbed "the poor man's dish." It's basically crumb flour along with a roasted-tomato-and-bell-pepper soup. My grandfather was one of ten children, and he was taught how to make it from his mother. He taught me, and as far as I know, I'm the only living person in our entire extended family who knows the recipe.
What do you foresee as the top beauty trends for the rest of 2019? A properly placed glow instead of contour and highlighting and all the makeup that's been used in recent years. I also really believe people are starting to incorporate tools into their beauty routine. It just makes your skin look better, which is something the younger generation completely understands. They are all about preventive care.
If you won the Powerball tomorrow, what are the first five things you would do? (After, of course, donating the majority of it to your top charities …) I would create a fund for my daughter and pay off my parents' home and any debt they have. I would buy a beach house that was right on the sand. I would give large amounts of money to all the people who have been involved with helping me throughout this process. I would put a lot of money into ZIIP and Melanie Simon Skincare and build out the companies in a way where only creativity thrived and we wouldn't have to worry about any financial constraints.