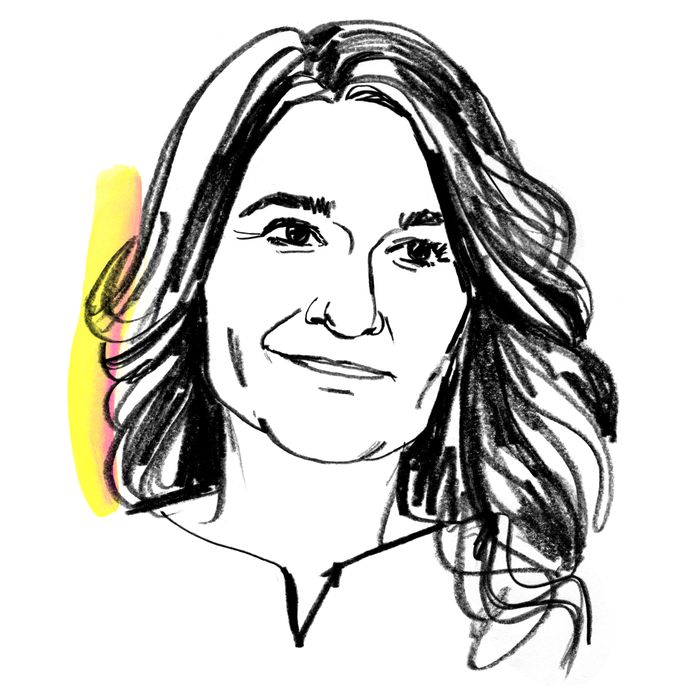 Illustration: Lauren Tamaki
Melinda Gates is one of the most powerful advocates for women around the world. As co-head of the Bill and Melinda Gates Foundation, the world's largest private foundation, she supports family planning and women's rights; as creator of the investment firm Pivotal Ventures, she funds female entrepreneurs. Last year, she and Bill Gates were named the world's most generous philanthropists after donating $4.8 billion to charity the previous year. In her first book, The Moment of Lift: How Empowering Women Changes the World, Gates shares stories of women in developing countries as well as how she and Bill negotiate housework and raising three children — Jenn, Rory, and Phoebe, aged 23, 19, and 16 — while living in Seattle. Here's how she gets it done.
On a typical morning:
I'm a morning person. I like to get up around 6:30 a.m., and I spend that first hour in "quiet time." I do meditation, some stretching, yoga, and I always do some kind of spiritual reading, like Mark Nepo's The Book of Awakening. Even if it's cold here in Seattle, I'll get outside. I really like to go in the lake when it's cold outside, or get my feet out in our yard, in our garden. Then I try to have a quick breakfast with my daughter Phoebe, who is a sophomore in high school. I'm from Texas, so about once a week I'll eat huevos rancheros, which is my all-time favorite. Sometimes I'll just have a grab-and-go muffin or yogurt, or oatmeal in the winter. Then I'll go into the office, either at the Foundation or my Pivotal Ventures office.
On pacing her caffeine intake:
I generally have a couple cups of black coffee in the morning, but I'm 54, so I try to stop having caffeine by 1 p.m. And I love iced tea — I grew up in the South, so I have a lot of good memories of being with my mom after school. She would sit down, even though I was one of four kids, and would make us each a glass of iced tea. We'd sit and talk, and she'd listen to my day. I still have iced tea every day.
On managing her schedule:
As a working mom with three busy children, married to a working dad, I've learned that calendars are important. I have one that tracks my schedule, the kids' schedule, and Bill's schedule, all in one place.
During the day I usually have back-to-back meetings, and I'll have 15-minute breaks to catch my breath. I think about my time. Is this a meeting where, if I take it, I'm either learning something deeply that I'm curious about or want to learn more about? Or is it a meeting I'm taking with partners or our own staff because I can help drive that piece of the strategy or make sure we're on track with what I think is right? I think about my role, and that determines what meetings I take. We have a really amazing, world-class team at the foundation and with their help — and regular meetings and briefs — I'm able to stay pretty up-to-date. In meetings, I tend to take handwritten notes. I also keep lots of little to-do lists.
On what she looks for in a job candidate:
This probably won't come as a surprise — but mission-driven tops the list.
On a typical night after work:
Bill and our daughter Phoebe and I try to have dinner as often as we can together, usually around 6 p.m., sometimes as late as 7 p.m. Dinner is usually a mix of whatever Phoebe and Bill and I like — anything from Mexican food to Asian to steak dinners or fish. I try not to work after dinner — that was kind of a mantra I made for myself about four years ago. I'll often read, talk with Bill, and then, generally, I'll watch something relaxing before bedtime with Bill or Phoebe.
Recently we watched all three seasons of Victoria on PBS, and had to hurry the last day and binge-watch the last three episodes before I left for the book tour, because we don't watch without each other. If we're in separate locales, we'll agree to both watch the same episode at the same time so we're caught up with each other. My aspirational time to go to bed is 9:30 p.m. Realistically, it's between 10 and 10:30 p.m. I go on about a dozen [work trips every year] — give or take — and if I've been on an international trip, I'm literally in bed by 9:30 p.m.
On her favorite games:
I beat Bill twice at Clue, and he couldn't believe it. We still do races with puzzles for fun. We'll buy a Peanuts puzzle at the drugstore, like an 80-piece puzzle at the drugstore, we'll buy two of them, and we'll race to do them. I still beat him pretty often. And the kids would tell you that I tease Bill about being competitive, because he's hyper-competitive, but then I am pretty much up there myself. We can get really competitive at a family game of Charades.
On emotional labor:
Part of why I write about unpaid labor, even in my own marriage, is because it's the story of women's lives — the amount of unpaid labor we all do, all over the world. I believe that in healthy marriages you have ask for what you need. Recently, we were together as a family, all five of us. We have one dog. I wasn't dying to get a dog, because I know for many of my friends, the work of a dog falls to the mom of the family. But Bill and I both agreed that it would be a good idea to get a dog for the kids. When we were on a holiday together with the dog, I realized after two days that I had been doing a lot of caregiving for this dog. It was a pretty high-maintenance dog. After two days, I finally said to Bill: "Hey, we got this family dog for the kids, but it's taking a lot of my time." He said, "You're right. I'm on duty today." That night, the dog happened to have a gut episode — all over the room. The five of us were watching a movie together and we stopped the movie, turned on the lights, and I started to take care of it. Bill stopped me and said, "Melinda, we said I'm on duty today." So I put my feet up and read the New York Times and Bill and the kids took care of it.
That's an example of naming what you need and the other person stepping up. We get so used to doing things, as women, and we have to make sure we switch up the distribution of labor. That's true all over the world.  
On advice she'd give to her younger self:
I would tell myself: You will succeed because of who you are, not in spite of it. At Microsoft, especially in the early days of my career, I sometimes felt a lot of pressure to fit in — most of my colleagues were male, most of our bosses were male, and the environment was a rough-and-tumble one. I could play that game, but I didn't like to. I wish someone would've told me that I didn't have to. Eventually, I figured out on my own that I could stop trying to be like everyone else and focus on being the best version of myself, instead.
*This interview has been edited and condensed.