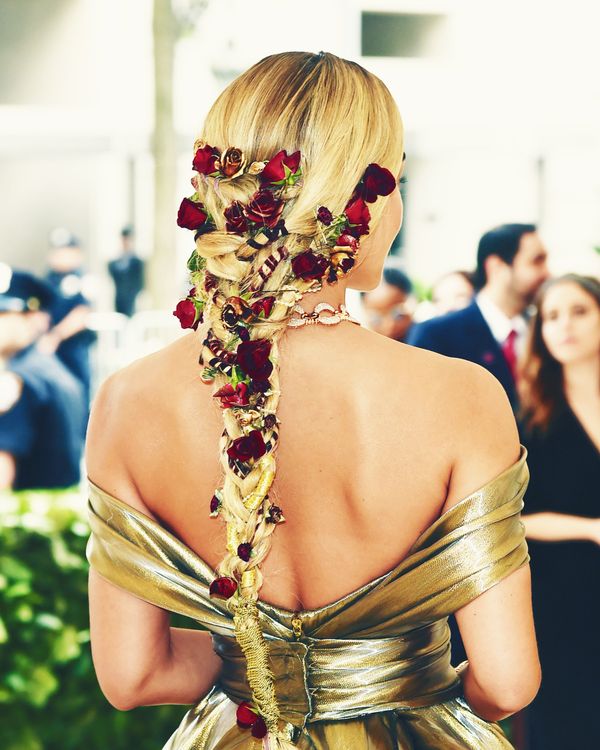 Today is the day to watch beautiful people do what they do best: prepare to look beautiful, and then stand next to beautiful people on the 2019 Met Gala red carpet. Celebrities are documenting their lavish beauty routines on Instagram — ahead of an evening that's sure to bring memorable looks, wild hair and makeup, and confusing interpretations of the theme, "camp."
Below, see all the celebs who have shared how they're getting ready for the big night. We'll update this post continuously throughout the day.
Miley Cyrus did some last-minute toning.
The Sun is Also a Star's Yara Shahidi got her hair done last night with some blue tape.
Priyanka Chopra and Nick Jonas drank matching bedazzled champagne.
Serena Williams, one of tonight's co-hosts, played tennis, obviously.
Eva Chen de-stressed with forehead crystals at the Instagram office.
Dua Lipa used a Batman-style pore strip.
Bella Hadid turned to LED light beams.
Lili Reinhart sported a face mask while donning a silk robe.
Supermodel Joan Smalls visited Instagram's favorite skin doctor, Joanna Czech.
Supermodel Lily Aldridge sent personalized bottles of "sipping tequila" to her close friends, including Gigi Hadid.
Rita Ora practiced some dance moves.
And Elaine Welteroth looked stylish with needles in her face.