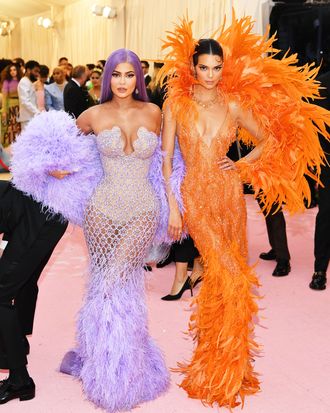 Kendall and Kylie Go Kamping.
Photo: 2019 Getty Images
If ever there were a Met Gala theme ripe for the meme-ing, this year's is a top contender. It's "Camp!" as defined by Susan Sontag in her seminal essay "Notes on 'Camp.'" (Specifically, the theme is "Camp: Notes on Fashion," and the show is brought to you in part by Gucci, one of the campiest fashion houses around.) But is there anything more camp than going viral on the internet thanks to a well-chosen pop-culture reference? It's the pixelated equivalent of "What is fame but almost entirely pointless?" (Which is to say, fame!)
Self-serious reality-TV stars and self-aware divas alike may have stumbled a little on the red carpet, but people on social media did not. Smash that retweet button on the best memes and jokes below.
Is Seinfeld camp?
Is Harry Potter camp?
Is AW's first smile on record since Tom Ford in 2001 camp?
Are Boy Scouts camp?
Are my worst nightmares camp?
Is Barbie camp?
Are the Kardashians kamp?
Is trolling Twitter camp? (Yes.)
(That's not even Jason Derulo.)
Is not understanding what camp is … actually camp?