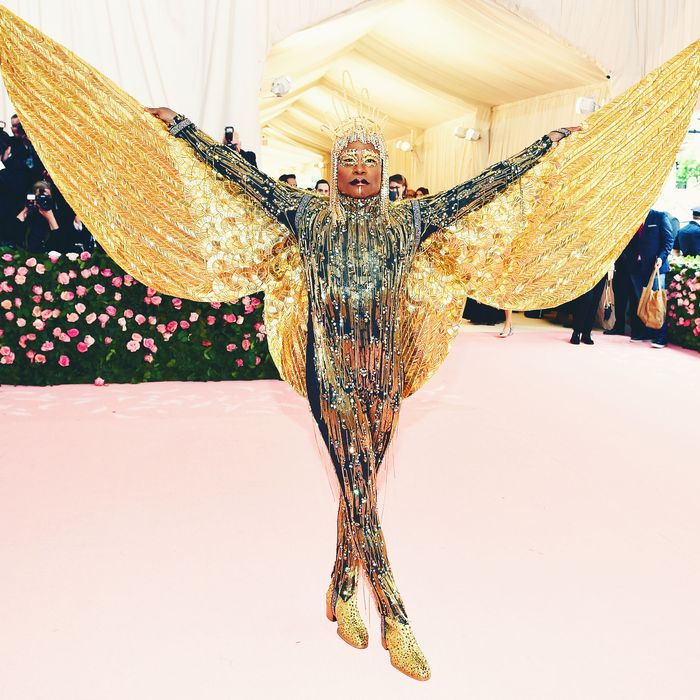 Photo: Dimitrios Kambouris/Getty Images for The Met Museum/Vogue
One of the best things about Billy Porter is that he can make an extraordinary act — like, say, being carried into the 2019 Met Gala on a bed by six beefy men — seem like just another day on the job.
On Monday night, he arrived to the event in full "Egyptian realness," dressed in a head-to-toe gold look by the Blonds. When he stepped onto the red carpet, he spread his arms to reveal massive gold wings — a gesture he rehearsed for hours before, of course. As Susan Sontag wrote, camp is "Being-as-Playing-a-Role," and for Billy Porter, every red carpet is a stage.
The Cut caught up with him the following day to discuss his most dramatic red-carpet entrance yet.
Let's start with how you physically got to the Met Gala. Did you travel with those six beefy men the whole way?
They came separately in a big travel van. I came from my hotel, and we met right at the red carpet together.
Were you nervous at all about being carried in by hand?
No, honey. I'm in theater! I've been carried in on things my whole life! You hold your court. You hire the right people, who know what they're doing, which is what we did. We went and got all the Broadway kids who do that kind of stuff for a living. It was choreographed. It wasn't like we just showed up. It's called a dress rehearsal! We were very prepared.
You're a professional.
Yeah!
Ryan Murphy originally suggested that you do a couple of outfit changes. What made you want to focus on just this one moment?
He said, "You should do Diana Ross's fashion montage from Mahogany! All five looks!" And I was like, "Look, I'm not really interested in working that hard. I've never been [to the Met Gala] before. Where am I changing? Why am I changing five times? Am I going back out on the red carpet each time?" It was a great jumping-off point, though, because it inspired the Egyptian look. I felt like that was something I could go full camp with.
I'm glad you didn't do outfit changes because you came in right after Lady Gaga, who did four. Did you witness that? What was your reaction?
I did. I thought it was amazing! She's Lady Gaga, though. You know what I mean? She has the budget for that. Ain't nobody paying for this shit.
The way you posed in your gigantic wings reminded me of how you worked your cape at the Golden Globes. Have you ever worn wings like that before?
I can't remember. But, you know, it's a costume! I practiced in front of the mirror. I looked at what shapes looked best, how to display the wings, and how to stretch them the furthest. I wanted to expand. You gotta rehearse that stuff.
Did you take off the wings once you got inside?
I wore them for the majority of the first part of the evening, and then when we sat down for dinner … [Laughs.] I had to take them off and put them under the table. They really started to get heavy.
Did you meet any celebrities? Any memorable moments?
Everybody's guard was down. You could talk to anybody, and everybody was friendly, and everybody would talk back to you. It was really special to be in a space where people who are that famous don't need to be guarded. There wasn't one moment; that itself was special.
And were there any looks that you were particularly impressed by?
Ezra Miller with all the eyes: stunningly beautiful. I loved Ryan Murphy as Liberace. I loved Gaga, obviously. I loved … who was the chandelier?
Katy Perry.
Katy Perry. I wasn't so fond of the hamburger, but the chandelier was amazing. I loved Zendaya as Cinderella. I loved Ciara with that giant Afro. I loved Janelle Monáe with the winky titty. I loved Laverne Cox. Céline Dion. There were so many gorgeous looks.
Overall, do you think people understood the theme?
I think a lot of people got it. The people who understood it, slayed it. The people who didn't understand it just came looking their gorgeous best. Everybody looked amazing. Truly.
Why is the theme of camp important to you? And is it important for the Met to give it a stage?
Camp is a form of art. High art. In the last few decades, it's really taken a hit in terms of the respect for the form. It's become a joke. It's become a word that's used when people are saying something negative about something. It's used as a pejorative in many ways.
As a performer, especially in my musical-theater life, my whole career has been built on being campy and flamboyant. People know my name because I do that thing so well. So I think it's really important that the Met is doing this. "Notes on Fashion" is a reclamation of the place and the space where camp deserves to be in the Zeitgeist. Just because you don't understand it and can't do it doesn't mean that it's a form that shouldn't be respected. Not everybody can do it! But when things are done right, they're always beautiful. I felt empowered last night.
Where do you go from here?
I'm presenting at the Tony Awards in June, so we're going to start working on a look for that. I don't know what it's going to be, so we'll see. But in the meantime, I gotta go to work!
Okay, last question: How did the Met Gala compare to your Cut cover photo shoot?
[Laughs.] Listen! You guys turned me into a fashion model, for real!