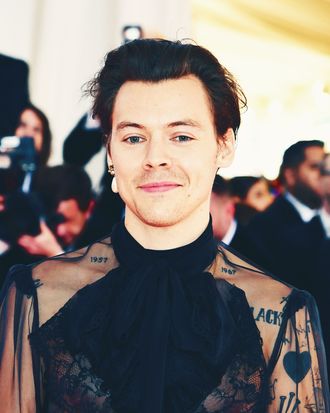 Harry Styles.
Photo: Dimitrios Kambouris/Getty Images for The Met Museum
The first Monday in May was a big one for handsome men named Harry. Prince Harry became a dad, and Harry Styles became … a camp icon?
When the English singer, actor, and international heartthrob arrived on the 2019 Met Gala red carpet with Gucci designer Alessandro Michele, the initial response in the Cut office was disappointment. His outfit seemed subdued next to the more exaggerated looks of the night, namely those of his fellow co-chairs, Lady Gaga and Serena Williams. Couldn't he have offered a little more oomph? Was his look even camp?
If and when you visit "Camp: Notes on Fashion" at the museum, you'll see why Harry Styles arguably nailed the theme. The show begins by illustrating camp as a way of carrying oneself: a pose. Contrapposto is an art-history term that describes the specific stance used in sculptures of beautiful young men, like Michelangelo's "David" — hand on hip, one leg cocked. In the exhibit, curator Andrew Bolton demonstrates how, when the pose is exaggerated, it becomes coded body language, specifically in male gay culture.
Bolton then traces this pose throughout history, from Louis XIV sticking out his white-stockinged leg to reveal a high-heel shoe to Oscar Wilde posing like a 19th-century thirst trap. These days, the the gesture has been co-opted by the beautiful young people of social media, like Emily Ratajkowski, and yes, celebrities like Harry Styles, who's said in the past that he "never felt the need" to define his sexual orientation. He clearly read the exhibit catalogue, because his pose on the red carpet read as camp, at least to me, and his outfit an extension of that sensibility.
On his feet, Styles wore heeled Gucci boots, which he showed off with the slightest pointed toe. A hand on his hip might have read as too campy, so I appreciated that his elegantly painted nails hung at his waist, instead. His stare at the camera was flirtatious, but not overtly so, like Lady Gaga's. This was secret-code camp, as it should be.
As for his outfit, Styles looked like Gucci designer Alessandro Michele's version of Oscar Wilde, in high-waisted trousers and a sheer lace top that, again, highlighted his "beau ideal" form. Did you see any other male nips on the red carpet Monday night? The top's pussy bow was a more feminine version of a tie. And the real cherry on top was his single pearl earring — an ode to art history, as well as codes of gay culture.
In the end, though, Harry Styles was camp because he went as the most beautiful version of Harry Styles. Like the best parts of camp, you shouldn't have to think too hard about it.