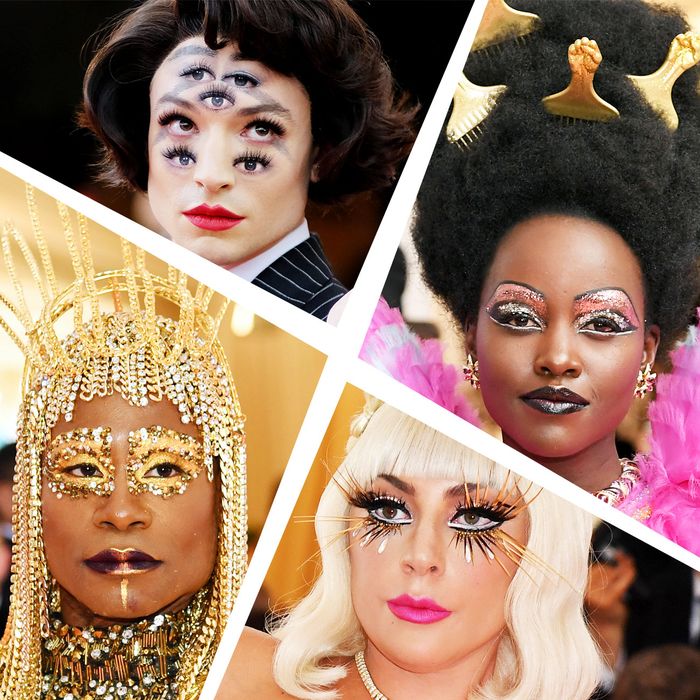 For the past four hours, celebrities swarmed the Met Gala 2019 red carpet to step and repeat, toss their heads to friends, strip, and perform some casual cat-cows on the Met steps. Now that they've all collectively entered the Metropolitan Museum of Art to take bathroom selfies, smoke cigarettes, and whatever else goes on in there behind closed, famous-people doors, it's time to take a closer look at all the beauty looks worth looking at from fashion's big night.
Liza Koshy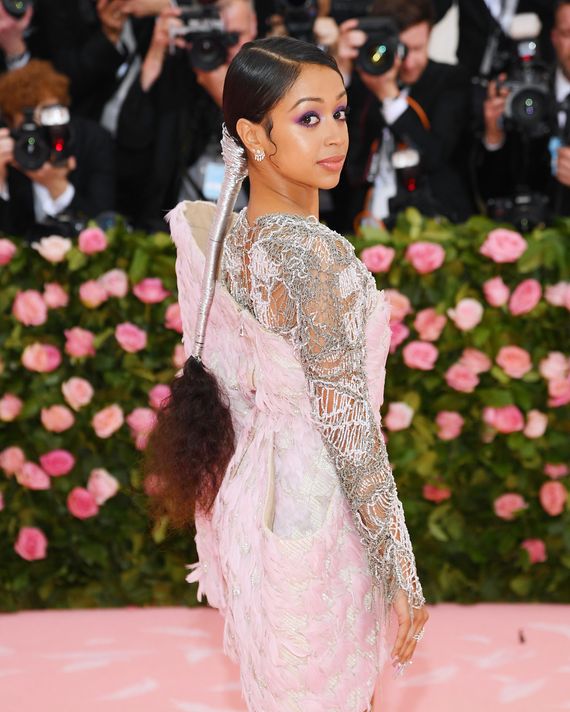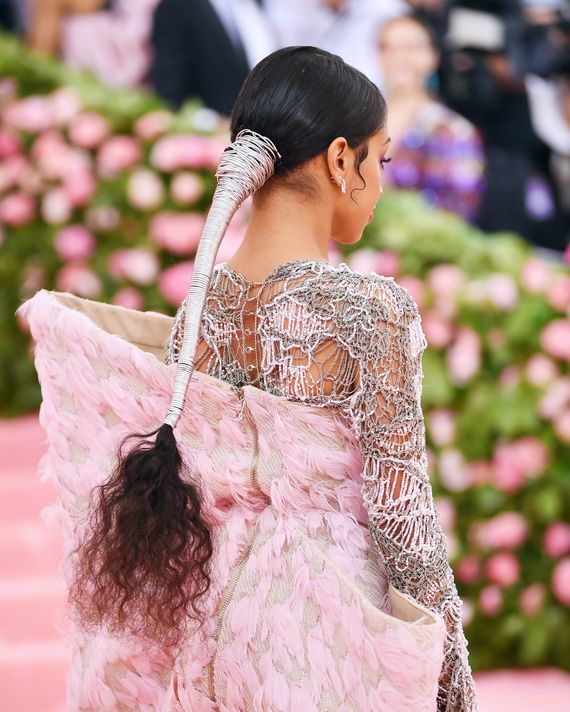 If this wrapped concoction doesn't convince you to switch from high ponytails to low ponytails, then try looking at it one more time from a different angle.
Lady Gaga
A true triple threat, Gaga makes an excellent case for getting a pair of 2019 bangs, investing in a quality lengthening mascara, and tying your hair in bows instead of tying a bow in your hair. Gaga's makeup was done by makeup artist Sarah Tanno using Marc Jacobs Beauty. Her lipstick is Le Marc Liquid Lip Crayon in Flaming-oh!.
Hailey Bieber
And here we have the world's most picture-perfect ponytail with not a hair out of place. It was sculpted by Jen Atkin and her OUAI products which means it smelled heavenly, too.
Ashley Graham
New York's hottest ponytail is Ashley Graham's. It has everything: Snap clips, pearls, barrettes, barrettes that know how to spell "Gucci," a bow, and a barrette in the shape of a bow, expertly placed by TRESemmé Global Stylist Justine Marjan.
Harry Styles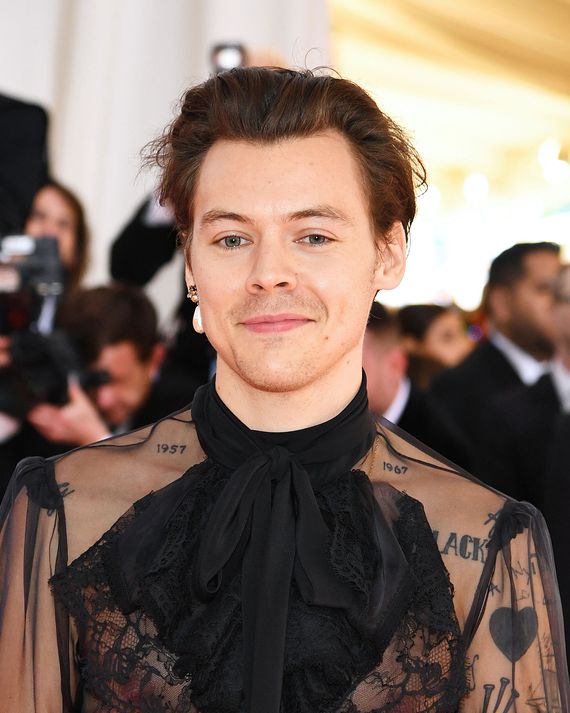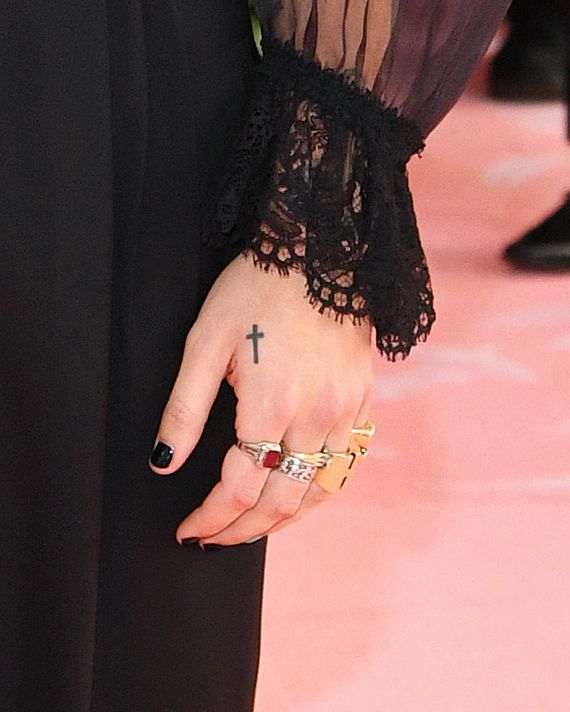 Mismatched nails to go with freeing the nipple.
Kacey Musgraves
Beach waves aren't camp, but Barbie waves are. Her hair was done by Giovanni Delgado, who used T3.
Serena Williams
What should show up whenever anyone Googles "glowy."
Bella Hadid
This is what Bella Hadid looks like with short hair.
Jared Leto and Jared Leto's Head


An on-trend middle part and beachy waves with the right amount of shine. Times two.
Kim Kardashian West
Everyone wants damp, wet-looking skin. Why not damp hair and cleavage too?
Ciara
Big hair. HUGE.
Mindy Kaling
Heartthrobs in their early-to-mid-20s aren't the only ones going blonde.
Janelle Monáe
Janelle Monáe's sparkly real eyes look as perfect as her sparkly boob eye.
Elle Fanning
Your nails should wear earrings too. Fanning's nails were done by Mar y Sol Inzerillo, using essie's Strike A Rose nailcolor.
Billy Porter
The only appropriate eye look to wear when being carried by six shirtless men in public.
Yara Shahidi
How half-up-half-down hair should be interpreted henceforth.
Alessandro Michele
Hair extensions are camp.
Hamish Bowles
A perfect scoop of rainbow-sherbet hair.
Saoirse Ronan
Who knew just a few smears of glitter and a smile could be so impactful.
Laverne Cox
If this doesn't make you want to wear blue eye shadow, and then match your hair to it, I don't know what will.
Lili Reinhart
Not quite as grand as Versailles, but the Petit Trianon of Marie Antoinette updos.
Indya Moore
Jaden's 2017 dreads are this year's Indya Moore braid.
Ezra Miller
Bonus points to Ezra Miller, who did five more eyes and six more brows than everyone else on the red carpet. His makeup took five hours to do and was done by Mimi Choi using Mehron.
Tessa Thompson
Another iconic ponytail to be this Halloween.
Lupita Nyong'o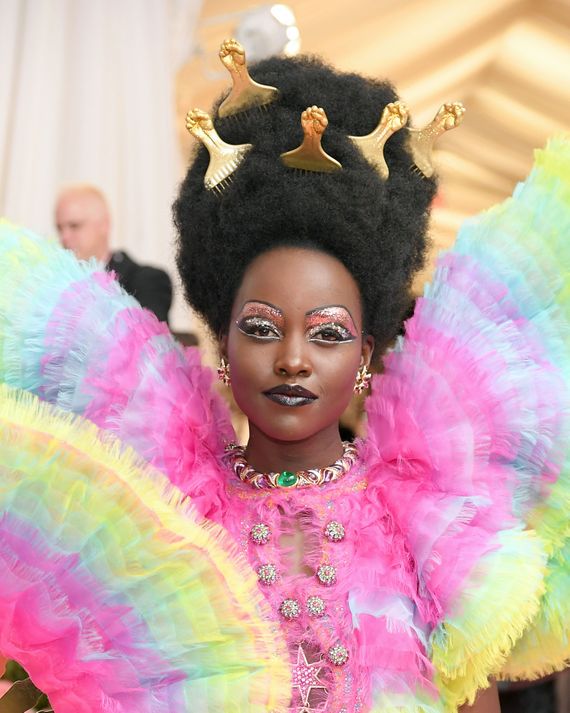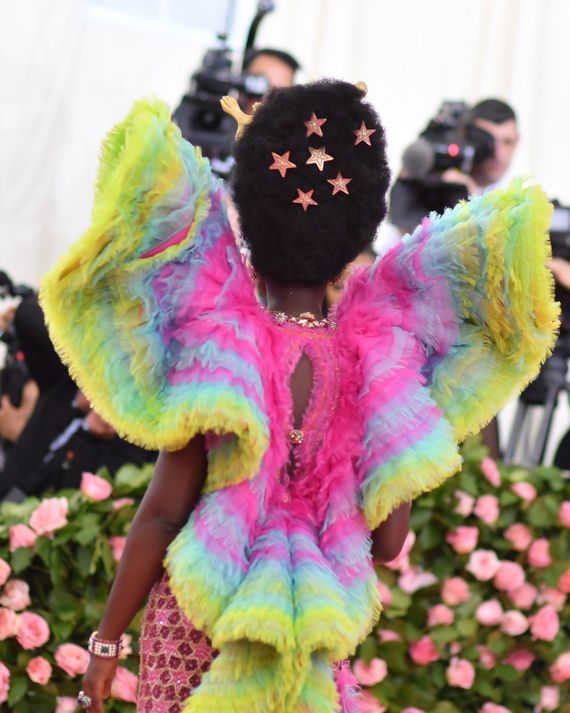 This look is doing so many things, and it's doing them all the most, which was basically the SparkNotes version of this year's dress code.
Lily Collins
An excellent hairspray ad.
Tracee Ellis Ross
How to wear cornrows with an LBD and a red lip.
Zoë Kravitz
How to wear cornrows with an LBD and a nude lip.
Danai Gurira
Braid bangs!
Ashton Sanders
A very beautiful head of curls.
Kristen Stewart
Two sets of nonconventional colored eyebrows are better than one!
Zazie Beetz
A headpiece that's one part cardigan and one part bridal veil, put in the hands of Stephen Jones to become beautiful.
Lucy Boynton
When you cry rhinestone tears.
Zendaya
Swoopy bangs and baby blue never looked so good.