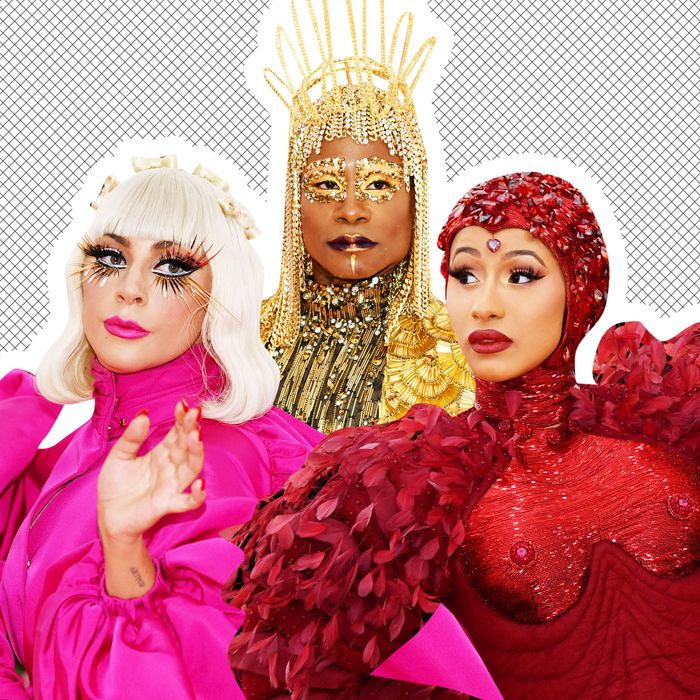 It's the first Monday in May, and all your favorite celebrities have been studying Susan Sontag's seminal essay "Notes on 'Camp'" for months and months in preparation for the 2019 Met Gala red carpet.
Okay, maybe they didn't read it that closely — but by its nature, camp, the theme of this year's Metropolitan Museum of Art Costume Institute exhibit, cannot disappoint. Camp is about irony, humor, parody, pastiche, artifice, theatricality, exaggeration, and, most important, fun. This had the potential to be the most fun Met Gala ever, with the most diverse guest list and the most over-the-top looks.
You know what else is camp? Lists. You can see every single look here, but below is our curated roundup of the best, worst, and campiest looks at the 2019 Met Gala.
Anna Wintour: Hottest Duck
This would have been the perfect time for Anna Wintour to shock the world by wearing a suit, Greta Garbo style — something she said new mom Meghan Markle made her recently consider. But Anna Wintour being the camp icon that she is, she showed up as the most Anna Wintour version of herself in a Chanel couture gown. (She always wears Chanel, and this is a particularly poignant year after the passing of Karl Lagerfeld.) In the spirit of camp, she also wore a feathered cape. Sontag wrote that camp "is a woman walking around in a dress made of three million feathers," so Wintour went with the most obvious choice … and looked like a hot duck.
Lady Gaga: Most David Blaine
Sontag wrote that camp is "the farthest extension, in sensibility, of the metaphor of life as theater," and Lady Gaga gave us four acts on the red carpet. She arrived in a large, hot-pink Brandon Maxwell gown accompanied by a staff of at least six men and women carrying umbrellas. They lifted up her dress to reveal a black gown. And then another! And another! And another! Her Russian-nesting-doll-like performance concluded with her splayed on the Met steps in her underwear, as every Met Gala look should. Scene.
Billy Porter: Biggest Staff
After his cape at the Golden Globes and his suit-dress at the Oscars, it was hard to imagine how Billy Porter could possibly outdo himself at the Met Gala, plus he had to follow Lady Gaga's entrance. But, Billy Porter being Billy Porter, he had his own Broadway-level performance up his sleeve. He arrived like the red-carpet royalty he is, carried by six beefy men on a pharaoh's throne. He then spread enormous gold wings like a phoenix in case you missed the metaphor. Victoria's Secret should book him next.
Céline Dion: Most Likely to Be in Mamma Mia 3
Céline Dion didn't seem to understand the theme and just went as herself, which, by extension, makes her very on-theme.
Jordan Roth: Most Theater Kid
The Met Gala is every theater kid's dream come true, which is great. Good for them. Broadway mogul Jordan Roth took it one step further, though, and showed up as a literal theater in an Iris Van Herpen cape, which spread to reveal the inside of an opera house.
Hamish Bowles: Best Feathered Cape
Vogue editor Hamish Bowles has been waiting for this day his entire life. He made full use of the theme in a colorful Maison Martin Margiela cape, which was lined with feathers. Even his hair matched the drapes.
Jared Leto: Most Expensive Accessory
Ever since I saw models walk the fall 2018 Gucci runway carrying replicas of their own heads, I've wanted one for myself. When I reached out to the special-effects firm that made them, though, I learned that they were a little over my budget. Typically, a Gucci head runs for about €10,000, depending on the color of your eyes, the kind of hair you have, and whether or not your mouth is open. In this context, we'd say: Worth it.
Katy Perry: Most Lit Inside
Earlier this year, Ariana Grande tweeted that bloggers will feel "lit inside" when they realize they are "purposeless" and "unfulfilled" and decide to "shift their focus elsewhere." Little did she know that's actually how I would feel upon seeing Katy Perry's candelabra look, which Liberace would've appreciated, too. After today, though, Perry said she's retiring the word "lit."
Harry Styles: Campiest Pose
Harry Styles may have looked disappointingly subtle in a sheer lace Gucci top, but if I were to picture the camp "beau ideal" today, this would be the first result. When I asked New York art critic Jerry Saltz what camp was, he assumed the contrapposto pose, with his weight on one hip (see: Michelangelo's David), but gave it some attitude, just like Harry is doing above. That's camp.
Janelle Monáe: Best Use of Boobs
The wonders of technology continue to inspire, this time in relation to Janelle Monáe's boobs. If you think her Christian Siriano dress is blinking, that's because it is.
Kasey Musgraves: Best Life-Size Barbie
This is what you see when you trip balls and discover your old doll collection in the attic of your parent's home. In a good way!
Cara Delevingne: Most Bananas Headgear
[Extreme Cara Delevigne voice] "I'm going to like, be a rainbow and put a lot of, you know, really random stuff on my head and it's going to be freaking uh-may-zing!" Yes, you're right, Cara Delevigne. You're so right.
Cardi B: Best Placenta Impression
I have not seen a placenta myself, but my colleagues at the Cut who are more familiar with the bodily organ can confirm that Cardi B did, in fact, look like a really fabulous one in Thom Browne.
Ezra Miller: Most Disorienting
Am I drunk? Are you drunk? Is Ezra Miller drunk?
Lizzo: Best Flamingo Interpretation
Compared with Anna Wintour's feather cape, this one by Marc Jacobs is the life of the party, just like Lizzo herself.
Joan Collins: Camp Lifetime Achievement Award
Dame Joan Henrietta Collins, who is 85 years young, dressed as herself on the '80s prime-time soap opera Dynasty. And that, my friends, is camp.
Good night!