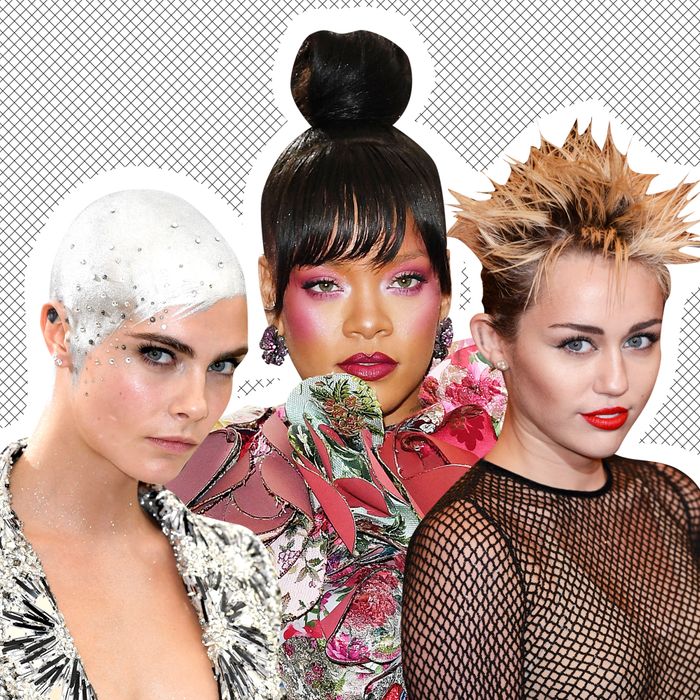 Every Met Gala has a theme, one inspired by the Metropolitan Museum of Art's Costume Institute exhibit, and yet, every year, there's a chunk of the red carpet that ends up looking like all those non-themed fancy awards shows we already witnessed at the beginning of the year. Thankfully, some celebrities block off the first Monday in May for their annual stroll out of the comfort zone with makeup looks that are more interesting than "cat eye" and hair choices that are more adventurous than "down." Here are 20 such memorable beauty looks of Met Galas past. Whether they're "good" or "bad" or even "actually on-theme" doesn't really matter; they all get an A for making us feel something, anything.
Best Cautionary Tale for the Instagram Brow: Ginnifer Goodwin, 2013
Only you can prevent Instagram Brows. Let this be a warning.
Most Likely to Push You Into a Pinterest Black Hole: Ciara, 2016
Should you dye your hair a shade of silver? Should you learn how to do finger waves? Could you be doing more with your bobby pins? Yes, yes, yes, and pin at least two step-by-step infographics on how to create a faux bob while you're at it.
Best Reminder That You Shouldn't Be Afraid of Blush, Blush Should Be Afraid of You: Rihanna, 2017
Stop worrying if you've applied too much blush. Stand up to it by applying way more, like all the way up and onto your eyelids using the draping technique.
Best Literal Interpretation of "Hat Hair": Cara Delevinge, 2017
Cara Delevinge was bald while filming Life in a Year, so makeup artist Romy Soleimani painted her some metallic hair that looked like a galactic skull cap.
Best Literal Interpretation of 'Brows Frame the Face': Lily Aldridge, 2016
Everyone knows brows are a frame for your face, and Lily Aldridge was smart enough to pick and hang a pretty gold one.
Best Role Model Hair: Zendaya, 2017
Never be afraid to take up space. Better yet, do it with bangs.
Best Reminder That There Are No Such Things As Mistakes, Only Happy Accidents: Elle Fanning, 2013
Sometimes, the numerous attempts to create perfectly even wings on both eyes get a little out of control. But you know what? Maybe it looks better like that, way past your eyebrows. You're doing great.
Most Elevated Updo: Lupita Nyong'o, 2016
Still waiting to see if anyone will try to literally top the work of art that Nyong'o's stylist Vernon François created three years ago.
Most Accurate Glimpse Into Our Future: Joan Smalls, 2014
This slightly alarming but mostly alluring violet lip was basically prepping everyone to wear Fenty Beauty Mattemoiselle Lipstick in Violet Fury three years in the future. We thank it for its service.
Most Resilient Updo: Miley Cyrus, 2013
A straight updo that can defy gravity without relying on pedestrian hair ties or claw clips is a superior one. TRL-era Lance Bass and Mark McGrath both wish they had this abundance of spike.
Most Likely to Make You Want to Watch Black Swan Real Quick: January Jones, 2013
Erasing one's eyebrows and elongating the inner corners of one's eyes gives off a chic, psychological horror film vibe.
Most Likely to Make You Want to Watch The Hunger Games Real Quick: Nicole Richie, 2013
This bright, buoyant hairdo is very Caesar Flickerman in style and texture, and Effie Trinket in color.
Most Likely to Make You Rethink Everything You've Ever Known: Jaden Smith, 2017
No one ever said you had to wear your hair on your head, now did they?
Most Awake Looking: Tessa Thompson, 2018
White eyeliner applied to the waterline can make your eyes look bigger and more awake. White liner drawn under the entire lash line and beyond is the equivalent to a venti nitro cold brew with an extra shot. Try it!
Most Annoying Situation to Remove, Hair Edition: Giovanna Battaglia, 2013
It's all fun and games until you need to rest your head upon your pillow.
Most Annoying Situation to Remove, Makeup Edition: Evan Rachel Wood, 2017
It's all fun and games until you need to rest your face upon your pillow.
Highest High Ponytail: Beyoncé, 2015
Really high ponytails are a dime a dozen these days, but back in 2015 Beyoncé's genie pony that sat at the very top and very center of her head while attending a formal-dress gala was kind of a big deal.
Best Case for Day-After Festival Makeup: Jemima Kirke, 2017
Don't remove it on Sunday night: recycle, reduce, reuse, and close the loop!
Best Ode to Evanescence: Katy Perry, 2016
Best Use of Green Hair: Adwoa Aboah, 2018
Not-so-scientific studies have shown that green hair is used to signal a celebration, and the first Monday in May has historically been one of those for the past 70 or so years. A perfect use case.