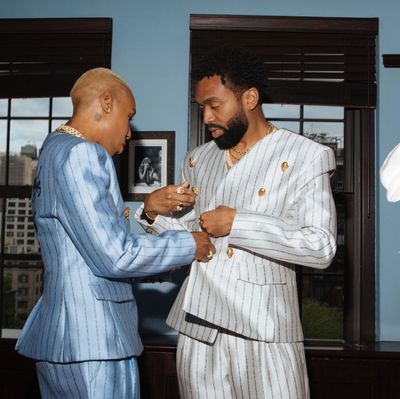 Lena Waithe and Kerby Jean-Raymond of Pyer Moss.
Photo: Amandla Baraka
After taking home the CFDA/Vogue Fashion Fund prize in November, designer Kerby Jean-Raymond of Pyer Moss also earned a ticket to the Met Gala.
For Monday's big event, Jean-Raymond dressed not one, but four different guests: Lena Waithe, La La Anthony, Colin Kaepernick, and Kaepernick's girlfriend, Nessa Diab. Jean-Raymond himself, who was styled by Eric McNeal, went as Waithe's date. The two dressed in matching zoot suits, inspired by the ones Spike Lee and Denzel Washington wore in Malcolm X. On the back of Waithe's suit read the phrase, "Black drag queens inventend camp," which made its rounds online not only for its powerful statement, but also because it seemed to contain a typo. These things happen, though, when you're dressing four different people for your first ever Met Gala.
Below, Jean-Raymond walks us through the epic night.
What time did you wake up on Monday?
I woke up at 6 a.m., but I wake up around that time every day with no alarm.
And what time did you start getting ready for the red carpet?
You know, I do everything wild late. I had to do some work stuff, and then I had to go fit La La. Then I had to go fit Lena. Then I had to hunt down Colin's suit, which was coming from Jersey and was stuck in traffic. Then we were still making Nessa's outfit on the spot. Then we had to go pick up [Vanity Fair editor] Radhika [Jones]. And I had to get my hair dreaded, and that took around two hours. I finally left my house in Brooklyn around 6:30 p.m. and headed over to the Met Gala.
When did conversations with Lena first begin?
About a month ago. Me and Lena have been friends for a while. I had the sketch on my desk from when Anna Wintour invited me to the Met back in January. I was in her office, getting my monthly advice session from her, and she was like, "Who are you bringing to the Met?" I had a few ideas, but more so, I had an idea of how I wanted to dress. I wanted to mimic the scene in the Spike Lee movie, Malcolm X when Spike Lee and Denzel Washington walk down the street in zoot suits. I started to think about who would be the perfect pairing, and Lena was the perfect pairing, for me.
What about that scene in Malcolm X is camp to you?
When you think about what black camp looks like, it's all these different things. It's hip-hop, it's Voguing culture, it's drag culture, it's zoot suit culture, it's dandy culture. I could have pulled from so many different references, but I thought that scene was specifically camp, just in the way that blacks used to dress in the early 1900s with zoot suits, and canes, and pocket watches. But I gave the zoot suit a modern take by reinterpreting it more like how MC Hammer has done, like the 2 Legit 2 Quit album cover.
That led to us digging deeper into the music aspect. All the lyrics on my jacket are rap bars about economic empowerment within the black community. I chose rappers who spoke to that. On my buttons, there's the faces of Nipsey Hussle, Tupac, Jay-Z, Nas, Drake, Meek Mill, Kendrick Lamar, and J. Cole. Originally, I was going to give Lena female rappers like Lil Kim and Foxy Brown, but she wanted to go a step further and really speak to the LGBTQ community. So we kept the lyrics idea and focused on ones like Diana Ross's "I'm Coming Out," and we put some LGBTQ icons on her buttons, like Grace Jones, RuPaul — people who mean something to that community. She chose the people on the buttons and she wrote what we had on the back, which is: "Black drag queens invented camp." Mine focused more on economic resuscitation in the African-American community: "Fix your credit; pool money; buy back the block."
I have to ask, is there a slight typo in "invented?" Is there an extra "n?"
You know, shit happens. That jacket went through, like, 20 different people, between me originally designing it, my interns, my designers, my seamstress, and the embroidery people. Because the font typeface is Pink Floyd's, the person who did the graphic did extra lines so that it could mimic that, but didn't realize that it made it look like an extra "n." We didn't make a big deal about it, but then people caught it on Twitter, and I was like, "Holy shit." Lena had already seen it in fittings, though, and was fine with the spelling due to the camp theme.
I didn't notice. I think it's funny, though. We can just call it camp.
Yeah, exactly. I mean, people spell period with a "t" now, so … Inventend. Periodt.
Zoot suits as camp makes a lot of sense; they're an exaggerated version of a suit. Are there any other details, like the shoes, or the accessories that you put a lot of thought into, in terms of styling?
I put a lot of intention into everything I do. Severe intention, sometimes, which is probably my downfall. The fabric is custom-printed with those song lyrics. Each line in the pinstripe is a different song lyric from one of the artists featured on the buttons. Even the cuffs are fists. Those were made by Johnny Nelson Jewelry and they're cast in gold. The shoulders had to be constructed about eight times, because constructing those shoulders is a whole thing. And then the shoes were wrapped in crocodile by the Shoe Surgeon. The jewelry was all done by Lena's stylist, Tiff Hasbourne. We wanted to make sure that we highlighted gold, because gold is specifically African. Even though it's an aspect of hip-hop that can be considered camp, we wanted to embrace it, not shun it. So I wore more jewelry than I've ever worn in my life. My neck hurt at the end of the night, but it was cool to have half-a-million dollars of jewelry on your neck.
Were there any moments from the night where you were just in awe? What was that whole scene like, for someone who's never been before?
I don't get nervous easily. For the past year, I've been on this constant adrenaline rush. At some point, if and when things slow down, I'll probably look back and be like, "Oh wow, this was a time." But the whole thing was just insane — like, being in the same room with the whole of Instagram. What was shocking was how many people knew who I was, and who were friends of the brand. That was very intense for me. And meeting people who are enigmas like Frank Ocean, and having conversations with them.
Were there any other looks that you thought were particularly striking?
Yeah, there were a lot. Camp is a hard theme to do, and so many people did it right. Like, Billy Porter was over-the-top and I loved it. Ezra Miller killed it. Tessa Thompson, she killed it. Cardi murdered it. She was making sounds at me, so she knew she killed it. Michael B. Jordan did his thing. Overall, it was a really dope experience, and I think it was probably the most fun theme that I've seen in a long time. Others have been really serious, but this was playful. Anna Wintour looked really cool, too. I sat next to Vera Wang, who had this crazy head piece on. Every time she ate a little bit, the feathers went in my ear. I just got used to it after a while. I was really happy to see everyone in the same room, just happy. There were enough good vibes last night to last me the year.
Any insider information you can share, like people smoking in the bathroom, or secret parties in the Temple of Dendur?
You know what, I'm trying to get invited again next year. I got other ideas. I have friends that have been banned, and I'm not trying to be banned.
Okay, fair. Which after-parties did you go to?
All of them. Lena and I are the same age, and we're with the shits, as the kids say. So, we went to everything.
What time did you get home?
4:30 a.m.? 5 a.m.? I could have stayed out later, though. I had that much energy. And I still woke up at 6 a.m.
Any advice for a designer who's going for the first time next year?
Make sure you research that theme. Double-check your spelling. And just understand that the red-carpet moment when everyone sees your look is very quick, so have a game plan. If you're the type of artist who wants to explain your work, have an elevator pitch ready.
This article has been updated to clarify Lena Waithe's awareness about the jacket's spelling.