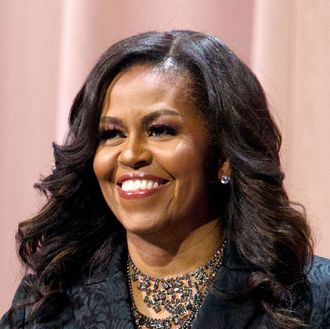 Michelle Obama.
Photo: Jose Luis Magana/AP/REX/Shutterstock
The morning after his New York Fashion Week show in February, designer Christopher John Rogers woke up to an Instagram DM from Michelle Obama's stylist, Meredith Koop.
Rogers is 25. He started his namesake line in 2016, the final year of the Obama administration. Getting a DM from a major stylist is the kind of thing young designers like him dream about — and these days, it's an increasingly common phenomenon. Countless models, stylists, and designers have been discovered on Instagram, so why not him?
"I immediately threw my phone across the room," Rogers told the Cut in an email on Monday afternoon. "I've been a fan of [Meredith's] work for a long time, and I was ecstatic that she voiced interest in getting our pieces on Michelle."
He and Koop talked for a few weeks about the look, which Mrs. Obama wore to the final evening of her Becoming book tour in Nashville, Tennessee, on Sunday. "Obviously" it had to be a suit, Rogers said. His last collection included a handful of suits in bright colors like pink, green, and blue. But he and Koop settled on a more "gently arresting" hue, a sparkly cyan that allowed the suit's impeccable tailoring to surface. Rogers still sews everything in his Brooklyn apartment with the help of his two roommates.
Rogers found out that Mrs. Obama would be wearing his suit on Sunday night, while he was visiting his family in Louisiana. He ran into his parents' room, and "we all started screaming," he said. "I started dancing and yelling and my parents did the same. Everyone in my family is so proud."
"It means the world to me and my team that one of the most outspoken and inspiring women chose to wear our work, and to close out her book tour," Rogers continued. "Her being a highly progressive woman of color makes it that much more special. I think it's definitely another milestone in my very short career … And it just underlines the fact that we mean business."