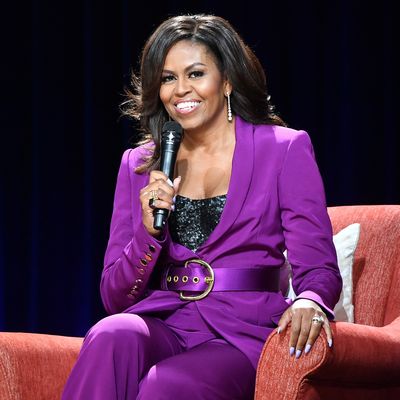 Photo: Paras Griffin/Getty Images
Former First Lady Michelle Obama has spent the last six months traveling to cities across America, Canada, and Europe for her Becoming book tour, which came to a conclusion in Nashville this month. During this time, she debuted a whole new look: The Michelle Obama pantsuit.
When Obama was in the White House, her wardrobe of sensible-yet-stylish J.Crew sweaters, cheerful shift dresses, and stunning state dinner gowns made her one of the most fashionable women U.S. politics had ever seen — up there with Jackie Kennedy. Like Kennedy, Obama seemed to take pleasure in fashion and made a point of championing young American talent (in her case, Jason Wu and Brandon Maxwell). Unlike Kennedy, she was a powerful black woman in America who knew her every move would be scrutinized. "Optics governed more or less everything in the political world, and I factored this into every outfit," she wrote in her memoir.
Obama's final state dinner look — a shimmering Versace gown — gave us a taste of what was to come after she left the White House. It was glamorous, and grabbed the spotlight. Now that her husband's term is over, she's free to determine what her next chapter will look like. And as she works to extend her influence beyond the White House, her new roster of suits hints at her agenda.

Suits were not a regular part of Obama's wardrobe when she was First Lady. That was her husband's thing. As she said in 2017, he wore the "same tux, same shoes" for eight years straight, and no one cared, which she found "unfair." Part of her role was projecting a supportive, wifely image. Had she worn a suit standing next to her husband at a state dinner, for example, it would have read as visually competitive, and allowed critics to accuse her of undermining the president's position.
"It was a thin line to walk," she wrote of her First Lady style. "I was supposed to stand out without overshadowing others, to blend in but not fade away."
Historically, a pantsuit on a woman has implied seriousness and strength — look at Hillary Clinton, who was so synonymous with the style that a Facebook group of her supporters during the 2016 election named itself Pantsuit Nation. Having worked as a lawyer and a hospital executive, Michelle Obama is no stranger to dressing to project seriousness, but she's not looking for validation through traditional displays of power. If she was, she would be wearing a staid pinstripe suit — and perhaps running for elected office. Instead, she's taking what could be a confining uniform and making it fun.
Her suits are colorful, embellished, and cut in non-traditional ways. There's nothing corporate about them — and nothing masculine. She started the European leg of her tour, for example, wearing an embellished, pale pink suit by the Copenhagen-based brand Stine Goya. She also wore a more casual blue denim suit back in November, when she first kicked off her tour in Chicago. And she's able to push the price points a little bit more, wearing $4,000 Balenciaga boots because she can.
This tracks with a larger trend in fashion, in which updated suiting is having a moment. As Cathy Horyn noted last season, Pheobe Philo's departure from Celine has left an opening for designers (namely the Olsens) to put their stamp on relaxed tailoring. As the pendulum swings away from T-shirts and sweatpants, we're also seeing designers like Hedi Slimane and Demna Gvasalia find ways to make sharp tailoring look relaxed and youthful as well. The goal isn't just to seem confident or capable — you also have to look like you can roll up your sleeves and hang, or at least reflect the times. Michelle Obama might be famous, successful, and brilliant, but she's also one of us.
"When it ends, when you walk out the door that last time from the world's most famous address, you're left in many ways to find yourself again," Obama writes in the introduction of Becoming. She has a new life, and her closet is getting a fresh start, too, cleared of any associations to politics. "My husband is making his own adjustments to life after the White House, catching his own breath. And here I am, in this new place, with a lot I want to say," she concludes.
On one of the final stops of her tour, Obama wore a bright purple suit with a belt and shimmering bustier top. She appeared at once vulnerable and powerful, glamorous and serious. To me, outfits like these are a statement of independence. As First Lady, her decisions were dictated by her role, and by its history. But as the singular Michelle Obama, she's finally able to take center stage.