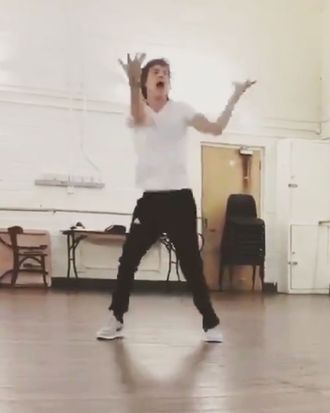 Mick Jagger.
Photo: @MickJagger/Twitter
Wow, what a week. Thank God it's Friday, right? Hahaha, just kidding. It's Wednesday! We have so much week ahead of us, we'll never be free.
Fortunately, the universe has a way of replenishing us when we need it most, perhaps with a beautiful sunset, or a subway train that pulls into the station at exactly the right moment, or, as it did today, with a video of Mick Jagger doing a lil' dance.
On Wednesday morning, the 75-year-old Rolling Stones front man posted a video of himself wiggling up a storm in front of a mirror in a sort of jerky, enthusiastic, improvisational way that reminds me a lot of how my little cousin used to dance when he was 4. It was delightful when my cousin did it, and it's delightful when Jagger does it — and even more impressive given that he recently underwent heart surgery to replace a valve. I invite you to watch it 46 times in a row, with or without sound (that's up to you), and feel the stress of your day, your week, your year, melt away.
If for some reason that video isn't soothing enough, try wandering through the rest of Jagger's wholesome Twitter feed. Here he is walking in the park:
Here he is avoiding traffic on a cool motorcycle:
Here is thanking you for all the birthday wishes and showing off his new bush hat:
Happy Wednesday, Mick Jagger.