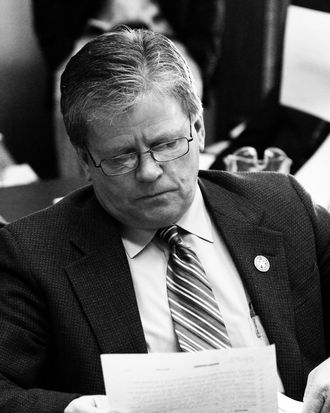 Mississippi state representative Douglas McLeod.
Photo: Rogelio V Solis/AP/REX/Shutterstock
A Mississippi lawmaker has been charged with domestic violence after he allegedly punched his wife in the face for not undressing quickly enough for sex, according to a report filed with the George County Sheriff's Department.
Per the Sun Herald, on Saturday night police responded to the house of Republican state representative Douglas McLeod, who reportedly answered the door with a glass of alcohol in his hand. "Mr. McLeod had slurred speech and walked slow in a zigzag pattern," reads a description from the responding deputies, who noted that the lawmaker could barely maintain his balance as he cautiously allowed police to come inside.
Upon entering the house, authorities saw two terrified women at the top of the staircase: McLeod's wife, who police say was shaking, and another unidentified woman. After police reassured McLeod's wife that they would protect her, she reportedly told them that her husband had "just snapped" and punched her in the face because, as the Sun Herald puts it, she didn't "get undressed quickly enough when he wanted to have sex." (Also per the Herald, deputies found blood on the couple's bedroom floor and bed.)
By early Sunday morning, McLeod had been charged with misdemeanor domestic violence and booked in the George County jail, but is now free on $1,000 signature bond. (This means that he was released without paying that money.) And, in the days since, state politicians have called on McLeod to step down over the disturbing allegations against him. On Tuesday morning, Democratic state senator David Blount tweeted that McLeod "should resign" — a call echoed just hours later by Republican House Speaker Philip Gunn.
"I have attempted to contact Representative McLeod to request his resignation, if in fact, these allegations are true," he said in a statement. "These actions are unacceptable for anyone."
Since 2012, McLeod has served in the Mississippi legislature, and is reportedly running unopposed in this year's election in August. In March of this year, McLeod voted in favor of his state's draconian six-week abortion ban, which is set to take effect in two months.