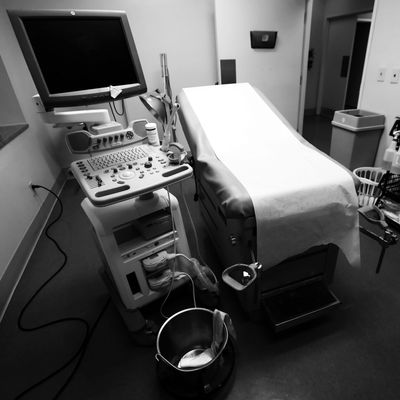 Photo: Rogelio V Solis/AP/REX/Shutterstock
By midnight tonight, Missouri could become the first state in the U.S. without a single abortion clinic — an incredibly frightening prospect for the 1.1 million women of reproductive age living there, and a definitive victory for the anti-abortion legislators who've been trying for years to erode access in the state by whatever means necessary.
Planned Parenthood announced earlier this week that Missouri's final remaining clinic, in St. Louis, may have to stop providing abortion care on May 31. According to the organization, this is because the state's health department "is refusing to renew" its license unless doctors comply with a slew of needlessly stringent regulations. Most gallingly, under the new requirements, doctors would have to administer medically unnecessary pelvic exams on their patients — something they say they refuse to do.
"When I say 'an unnecessary pelvic exam,' what I mean is that the state is forcing me to put my fingers in somebody's vagina when it is totally medically irrelevant," Colleen McNicholas, a Planned Parenthood physician in St. Louis, told CBS News. "That is really bordering on harassment … I am really proud of our clinicians for taking a stand and saying, You know, we just won't do that to patients."
In recent months, conservative lawmakers throughout the South and Midwest have passed a slew of near-total bans on abortion, igniting nationwide outrage. (Missouri just passed one of its own, which would ban the procedure at eight weeks with no exception for rape, incest, or human-trafficking victims.) But it doesn't take a brazen, full-on ban to make abortion inaccessible to large swaths of the population — and by eroding access incrementally, lawmakers can escape notice and avoid public outcry. Abortion bans are also likely to face substantial legal challenges that would prevent them from taking effect; more insidious regulations, conversely, whittle away access quietly, by shuttering clinics over the course of several years and erecting a byzantine maze of red tape around the nominal right to choose.
It's laws like these that may pose a more immediate threat, as the precarious fate of Missouri's last clinic shows: For nearly a decade now, legislators in the state have been hard at work passing a series of harsh restrictions on abortion. By overregulating clinics, demanding that they meet certain, hyperspecific architectural standards, they successfully forced four other providers in the state to close their doors. They've also instituted strict limits on insurance coverage for the procedure, and made Missouri one of just a few states that require women to make two separate trips, 72 hours apart, in order to get a termination.
This three-day waiting period, coupled with the long distances many patients must travel in order to reach the state's last remaining clinic, has essentially had the same effect as overturning Roe v. Wade: Those who can afford to make long trips to leave the state altogether are able to access abortion care; those who lack the means to do so are pushed into a far more desperate situation — one where they can either resort to illegal alternatives or be forced to bear a child against their will.
Planned Parenthood filed a lawsuit earlier this week, asking a circuit court to intervene and temporarily block the St. Louis clinic from closing; the judge is expected to issue a ruling at some point today. In the meantime, the St. Louis clinic is still providing abortion services.
It's a harrowing reminder of the current landscape in America: Missouri is — until midnight at least — one of six states with just one provider left. This is a number that will likely grow as more and more restrictions are passed. As we take to the streets to decry more blatant attacks like full-on abortion bans, it's important to remember that the war on our rights has been ongoing, insidious, and startlingly effective. And for many women, the right to choose has already been taken away.
This post has been updated.