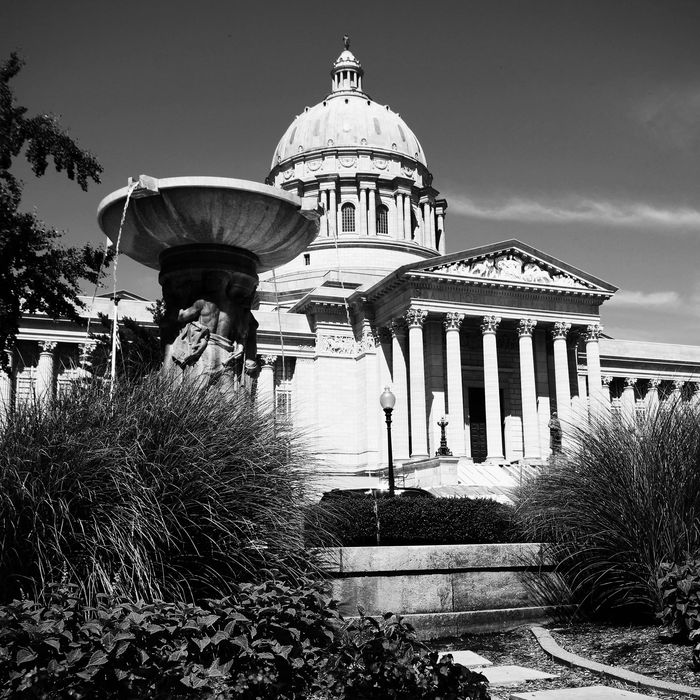 Missouri State House.
Photo: F McGady
On the heels of Alabama's extreme abortion ban, similarly harsh legislation was passed by Missouri lawmakers this week — meaning it could soon become the latest state to enact a near-full ban on the medical procedure.
As the Kansas City Star reports, the Republican-led Missouri Senate voted on Thursday morning to ban abortions at eight weeks of pregnancy. The House then voted in favor of the ban on Friday; the state's vehemently anti-abortion Republican governor, Mike Parson, is expected to sign it into law. ("My administration will execute the laws the legislature passes and this pro-life administration will not back down," the governor has stated.)
Missouri already has extremely restrictive abortion laws, with only one abortion provider operating in the entire state. The eight-week ban does not include any exceptions for instances of rape, incest, or human trafficking (though it does allow for the procedure in cases of medical emergency), and doctors who perform the procedure face up to 15 years in prison.
The Missouri senate's vote on the eight-week ban comes shortly after Alabama lawmakers voted to approve a six-week ban on the procedure, which likewise did not include any exceptions. The Alabama abortion law, which was designed as a direct threat to Roe v. Wade, followed a similar draconian law enacted in Georgia, and others in Mississippi, Kentucky, Iowa, and North Dakota. The six-week bans are referred to as "heartbeat bills" by anti-abortion advocates. In effect, the bills would basically prohibit most abortions, since they only allow for an extremely short window for women to even detect a pregnancy.
Even if the bill is signed into law, it will not take effect immediately, and will face legal challenges from reproductive rights groups — as will the other harsh bans passed this year. In a statement on Twitter, the ACLU indicated their intent to sue over the legislation, writing, "Missouri's law will be stopped by the courts — just like Georgia, Ohio, Kentucky, Mississippi, and Alabama's. We all have a constitutional right to abortion and we will fight for it."
In the meantime, advocates emphasize that Missouri's last remaining provider is still open. "Let me be clear: you can still get an abortion in the state of Missouri. Clinics are still open, for now," Dr. Colleen McNicholas, and OB/GYN in the state and fellow with Physicians for Reproductive Health, told the Cut.
This post was updated to reflect the Missouri House vote.