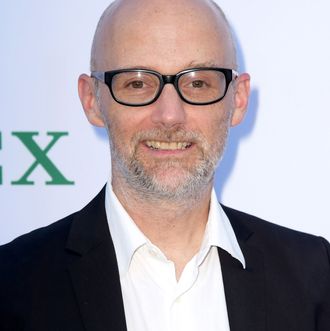 Photo: Kevin Winter/Getty Images
Moby is taking a time out, and that's probably for the best. A few weeks ago, the musician released an autobiography called Then It All Fell Apart, and the subsequent controversy arising from certain anecdotes he shared has resulted in the author's calling off the rest of his book tour as well as "all upcoming public appearances for the foreseeable future." Tickets will be refunded, and Moby says he's "going to go away for a while." In the book, the musician made claims about dating Natalie Portman 20 years ago that the actress promptly dismissed as untrue — while also pointing out that she was just 18 at the time the two were hanging out, not 20 like Moby said she was.
While Moby wrote of a brief tryst between them, Portman described "a much older man being creepy with me when I just had graduated high school." Whereupon Moby went on a social-media posting spree, asking what to do in the face of unsubstantiated accusations, sharing photos of the two of them as "proof" they dated, and generally behaving in a way that proved Portman's point before finally apologizing to the actress for his inappropriate behavior today and when they met decades ago. "I accept that given the dynamic of our almost 14 year age difference I absolutely should've acted more responsibly and respectfully when Natalie and I first met almost 20 years ago," Moby wrote in an Instagram caption. He's now taking a leave of absence, and, one hopes, deleting social media from his phone.