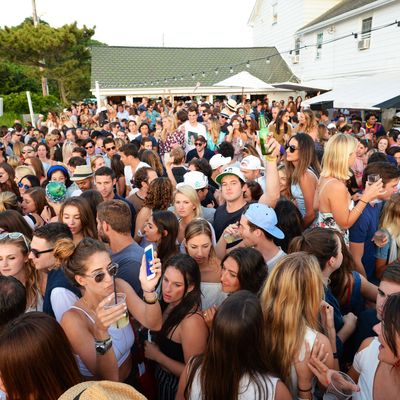 Surf Lodge.
Photo: Scott Roth/Invision/AP/REX/Shutterstock
Instead of joining the teeming masses in New York City as we sweat out the entire summer waiting underground for a subway that never comes, young wealthy people head east for the season — flocking, primarily, to Montauk's socialite "hot spot" Surf Lodge. But while attracting an immense crowd may be good for business (I assume!), it turns out that it may also be wreaking havoc on the nearby ecosystem. Primarily, per the New York Times, via sewage.
According to a new report by the Times, the Surf Lodge had just four small women's bathroom stalls until recently. This resulted in legendary lines that curved into the lobby and even, on occasion, out the main entrance. But there also happens to be a "secret bathroom" that VIPs are able use in the manager's office, where they have to be escorted by security.
Beyond the giant lines, however, it turns out the bathroom's septic system was so old that sewage has seeped out into a local pond. Per the Times:
The few overused bathrooms relied on an old septic system that hadn't been renovated since the 1940s. "Nitrogen from waste was leaking into the pond," said Councilwoman Sylvia Overby, deputy town supervisor of East Hampton, referring to Fort Pond, the 181-acre body of water behind the lodge where the concertgoers on kayaks sometimes congregate.
But never fear: the Times reveals that Surf Lodge unveiled 12 new bathroom stalls over Memorial Day — located in what used to be an art gallery. What's more, a tank from Japan was brought in to help with the pollution problem.
So glad that rich young socialites can finally pee at the "hot spot" with some peace of mind.