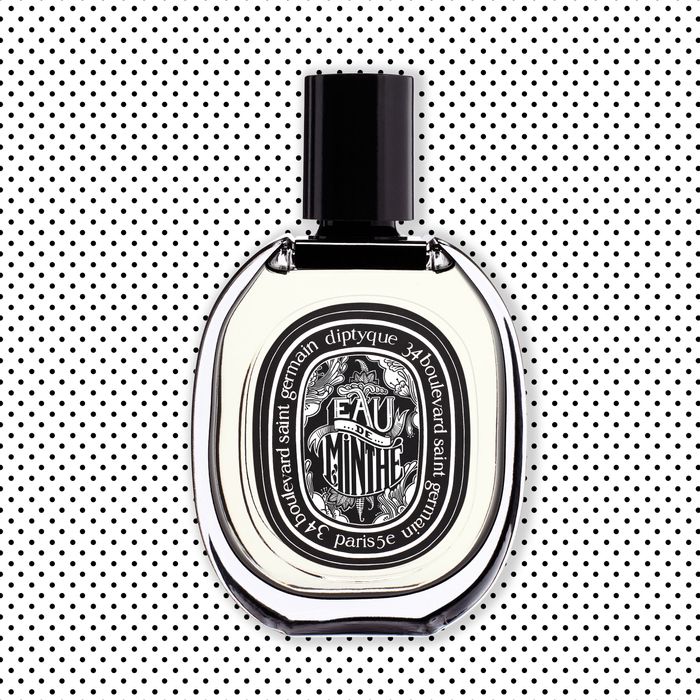 Photo: Courtesy of Diptyque
Diptyque, the French scent brand that's famous for its very bougie bougies, took a trip to Oregon. In the Cascade Mountains, the brand, working with perfume company Firmenich, came across a hybrid type of mint called Cascade Mint. It's mint with an animalistic edge: more green and grungy-smelling than the kind you find in mint chocolate chip ice cream.
The mint now serves — along with geranium, patchouli, and rose oxide — as the base for Diptyque's first-ever genderless scent that's a fougère (a family of perfumes known for being forest-like, woody, and fresh), Eau de Minthe. The Cut had several staffers to test out this new perfume. Here's what they thought.
Stella Bugbee, editorial director
I like this scent a lot — it's minty and clean, but undercut with the tiniest bit of musk. I like that the perfume is gender neutral, and I often wear perfumes that are "for men." This one, however, reminds me of leaning my face against the nook of my high-school boyfriend's armpit in a dark auditorium, and therefore I don't think I'd wear it myself. I might give it to my husband, though, just to feel young again.
Katie Heaney, senior health writer
I was really excited to try this, because I love the idea of genderless perfume. Who's to say which spices or flowers are "feminine" or "masculine" anyway? Given the name, I imagined something light and minty and clean, sort of like laundry, or toothpaste.
I don't usually wear perfume, and I don't like heavy scents. I applied the slightest amount of this stuff, and I still found it a bit overpowering. I also found it sort of — at the risk of perpetuating the gendered associations I just said I was eager to overcome — mannish. I've definitely smelled more androgynous scents in my day. This smells like a rich 28-year-old guy named Ben who's just worked out at a very expensive gym, which isn't bad, but also isn't necessarily what I aspire to. That said, my wife liked it a LOT on me.
Kelly Conaboy, writer-at-large
I love Diptyque so much. Many of their candles are my favorite of all time. I have a few of their body products and they are all amazing. I was really excited to try this perfume because I anticipated it smelling, basically, like mint. This is going to be so fresh, I thought. Oh my God, this is going to be so perfect for summer … cool and refreshing; light and witty. I imagined myself flitting around in loose clothing, smelling of mint, calm and focused and not sweating, charming everyone within smelling distance.
I put the scent on and left to go to a party and it wasn't until I was already sitting on the train that I realized on me, the perfume smells sort of like a standard masculine-scented cologne. It's fairly heavy and smells like a boyfriend. It's not bad, but it's not the mint dream I was imagining. Sadly. I will not make this perfume my spring or summer scent, but I will continue being a fan of Diptyque. Love you, Diptyque.
Diana Tsui, senior market editor
Feu du Bois is my go-to in the winter and I'm obsessed with Ôponé, Diptyque's smoky rose perfume. I love things that smell masculine and am a huge fan of patchouli, santal, and all other woodsy, burning notes. Unfortunately, this brought back memories that were decidedly not sexy. One sniff and I was transported back to my childhood where my dad would splash copious amounts of Old Spice on his neck. While it may be nostalgic, it wasn't something I wanted to smell like. I'd give it to my husband, but I don't want him to smell like my dad, and anyway, he said it reminded hm of nineties-era Polo. So it's a pass for us.
Jane Larkworthy, beauty editor-at-large
I have a weakness for mint that goes way beyond the toothpaste and gum limits. I use it in my cooking, my baking and my drinking, and it's not just because it grows like a weed in my modest little garden bed. It was with great gusto that I tore this box open and lavishly sprayed it on my wrist. I did not smell mint, of any variety. Instead I smelled what I'm guessing Joe Namath must have smelled like when he did those Brut ads back in the Seventies.
Points to Diptyque for coming out with their first gender-neutral scent, but I respectfully disagree with the appellation and will remain loyal to their Do Son as well as my beloved Feu de Bois candle, which, come to think of it, is very gender neutral.
If you buy something through our links, New York may earn an affiliate commission.