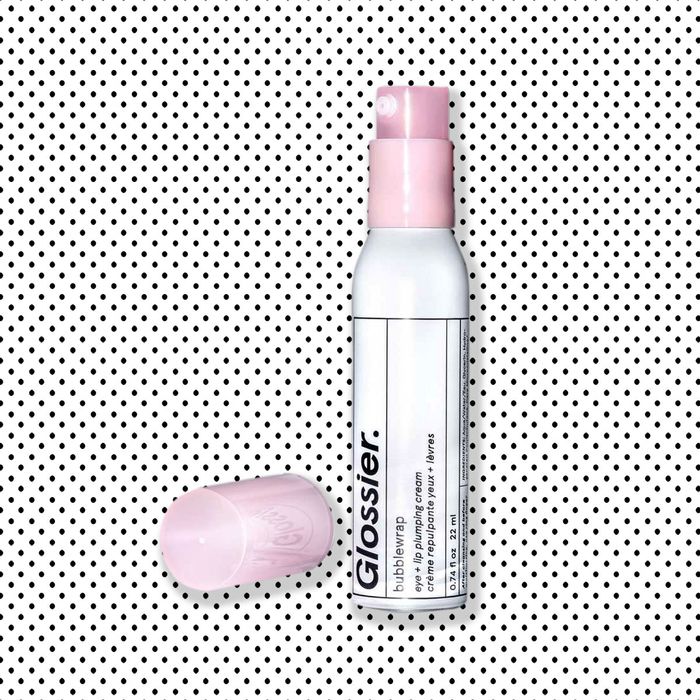 Photo: Courtesy of Glossier
A few weeks ago, Glossier debuted Bubblewrap, its first-ever eye cream. Meant to cushion your delicate under-eye area (where the skin is most fragile), Bubblewrap is also meant to double as a lip-plumping cream. It contains some very popular hydrating ingredients like hyaluronic acid, squalane, and avocado oil, as well as antioxidant-rich blueberry extract. But is it any good? Five Cut staff members put Bubble Wrap to the test for its alleged two-in-one capabilities. Here's what they thought.
Callie Beusman, News Editor
I am on a constant quest for a good eye cream — my dream is to appear Face-Tuned at all times, but I will not make the requisite changes in my abysmal sleep schedule, nor will I drink more water. Sorry! So the creams I employ face an uphill battle. Anyway, I really liked the texture of this one; it was very smooth and felt pleasantly light, and it didn't irritate my skin at all, which has happened with other products I've tried. I first applied it on Tuesday night, after I stayed up very late watching the Vanderpump Rules finale and was so thrilled by the drama that I had to watch at least one hour of K-Pop videos to calm down before attempting to sleep.
Then I performed my nightly ritual of placing a glass of water beside my bed, drinking two sips of it, and never touching it again. When I woke up, my eyes were a bit puffy and had dark circles beneath them, but the area also felt softer and smoother, so that's nice. I used it again on Wednesday and still don't see much of a difference, but I like applying it and suspect it will make my eyes appear brighter at some point in the future. I actually did not like it as a lip product, though — I feel as though it dried my lips out, which is the opposite of what it's supposed to do.
Paola de Varona, Editorial Assistant
What I love about Bubblewrap is its light feel and how quickly it absorbed into my skin. Usually eye creams are thick and heavy, so I only apply them at night before I sleep, but this one is light enough to put under my moisturizer and makeup in the morning. It also leaves my lips extremely soft. I think it would be a great starter for people who don't already use an eye cream. As for me, I'll add this to my morning routine, but I'd prefer something heavier for overnight.
Erica Smith, Beauty Writer
This is allegedly the two-in-one you never knew you needed. Using it has made me sure I was correct in thinking that I never needed a hybrid lip and eye cream in the first place. If you love Glossier packaging and want to keep your shelfies uniform, then go for it. Otherwise, this seems like a perfectly good moisturizer in a pump.
In terms of eye cream, I like that the formula absorbs quickly so you don't have to dab under your eyes for forever, but other than that, it's fine! Applying this to my lips really felt like putting moisturizer on them. They felt smoother, but with that kind of matte, lotion-that-has-absorbed-into-your-skin feeling. This is fine everywhere else on my body because I'm not consistently rubbing my arms/legs/face. But my lips are always touching each other, so they felt off — like something needed to be layered on top. I guess I'd use this to prime my lips before using lipstick, but I already have a lip primer that does that better. And I guess I'd also use this under my eyes, but I already have eye creams that do that better, too.
Daise Bedolla, Social Editor
With the Met Gala on Monday, I haven't gotten much sleep, so this was a particularly fraught week to test an eye cream. Honestly, I don't think this product did much to alleviate my exhausted look. It did act as a great primer for my concealer, though, and after I rubbed it on my lips — which felt slightly strange, since it's not a balm — I noticed my lipstick went on seamlessly and didn't crease. Also, I did see a slight "plumping" effect. It's $26, so I can't say I'd purchase it merely for primer purposes. If you want to reduce the number of products in your routine, though, this could be a good one to try.
Kathleen Hou, Beauty Director
I don't suffer from Resting Bitch Face. I suffer from Resting Tired and Worried Face. This is largely due to my dark eye circles, which, when not properly concealed or moisturized, make it seem like I've been going through something low-grade very stressful, like bedbugs or being a bridesmaid for your most high-maintenance friend.
Bubblewrap is pretty light compared to the typically heavy-duty eye creams I use. It's a gentle cream that doesn't feel greasy, and I liked that it absorbed easily into the skin without my needing to do much patting. Although I've never applied eye cream to my lips, I dutifully smeared it over them too. I don't think it hydrated them, but I do think they looked slightly more plump … maybe? (For serious cracks and chapping, I think I would still prefer a lip balm, though.) This would be a good starter eye cream for someone without severely dehydrated under-eyes. But I started to notice my under-eye concealer creasing a bit by lunchtime after I applied it in the morning.
If you buy something through our links, New York may earn an affiliate commission.