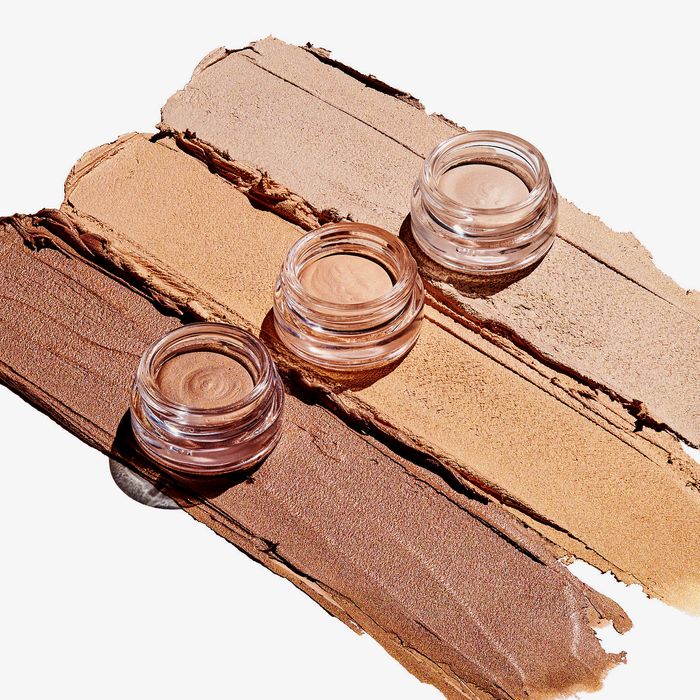 Photo: Courtesy of Supergoop
When I asked my colleagues in Slack if anyone wanted to try "eyelid sunscreen," the response was crickets. When I asked again if anyone wants to try "eye shadow with sunscreen," I got four tentative Emoji responses, one of which was the "shrug" face. It was with skepticism that Cut staffers tested out Supergoop's new Shimmershade Illuminating Cream Eyeshadow — the first eye shadow offering a claim of SPF 30.
According to the brand, 5–10 percent of skin cancer is found around the eye. So eyelid sunscreen is worth using, even if it sounds kind of strange. Here is what several Cut staffers thought of this new product.
Erica Smith, Beauty Writer
Props to Supergoop for successfully convincing me to use a product I never thought I needed. SPF benefits aside, the formula won me over. It's very creamy, glides on easily, and leaves a smooth, matte finish, just like the Unseeen Sunscreen I've been blowing through. Nothing about it screams "sunscreen," which is how I want all my sunscreen — and now, my eye sunscreen — to be.
I used the the darkest shade, and it left a nice subtle shimmer, the exact kind I want when I need to look slightly more alive but don't want to do a whole eye look. I didn't notice any creasing by the end of the day, so I do believe this would make a really good shadow primer, as the packaging suggests. I'll definitely be relying on this for outdoor wedding season for smoky eyes and such, though I wouldn't be mad if they decided to release it in a cleaner stick or doe-foot applicator form.
Aude White, Senior Communications Manager
To pay this eye shadow a compliment disguised as an insult: I like it because it's nothing special. I wear shimmery eye shadow every day, and this looks and feels exactly like my go-tos, but better. It's not quite as sticky as Glossier's Lidstar eye shadows (and has a better consistency), and it seems to endure on my greasy lids better than Laura Mercier's Caviar Stick.
There are a dozen others I could compare it to, but overall it's a really solid version of what it's trying to be — with a bonus splash of SPF to make you feel smug and adult.
Jane Larkworthy, Beauty Editor-at-Large
I never apply sunscreen to my eyelids, probably because I think it'll irritate the delicate, poreless skin — or maybe I just never think about applying it there, the same way I never apply to the insides of my elbows or to my toes. Unscrewing the jar of Sunset, "Too gloppy" was my first thought. This was immediately followed by "Too dark for me," so I dipped sparingly, then rubbed it over my eyelid. I was very pleasantly surprised.
This shimmery bronze brought out the yellow-amber of my eyes and actually didn't look too much for my austere makeup tastes. It creased a little by mid-day, but, honestly, what eye shadow doesn't? I also learned two things about myself: I'm not the best at applying eye shadow evenly on both sides, and close-up selfies are lessons in self-acceptance.
Daise Bedolla, Social Editor
My family has a history of skin cancer so I am fierce about sun protection. I want SPF in everything. This shadow from Supergoop is super spreadable, though I found that using my fingers worked better than using a brush. Keep patting in to build it up more — or not, if you want a very subtle shimmer on your lids.
I've had a lingering headache for a couple of days and went with the "Golden Hour" shade in hopes that it would make me look more awake and less tired. The color does a great job as a highlighter, bringing attention to your lids, but I don't think I would wear this individually. It's too subtle for me to wear it on its own. I would definitely use this to highlight the inner corners of my eyes or to add it on top of a colorful eye shadow. It creased a tiny bit, but it was easily fixable by adding more and blending. I hope that the brand is planning on launching these shadows in a brighter array of colors, I need a dramatic pink and a blue in my life!
Diana Tsui, Senior Market Editor
I have a very small repertoire of makeup skills — sharp eyeliner and burgundy lips are the extent of my abilities — so eye shadow strikes fear into my heart. I don't know how to apply it and when I attempt to do so, it's always awkwardly placed on my lid and completely unflattering. So when Kathleen asked me to try Supergoop's new line, I was hesitant.
The tiny little pots of pigment seemed too shimmery and pale for me at first glance. First Light and Golden Hour had golden tones, which are usually good for me, but they were definitely chalky on my skin. I wound up trying Daydream, a pink hue. I dabbled a bit on my eyes and extended it up to my brow bone. It looked like highlighter so I mixed in Sunset, a deeper bronze shade across my crease. The result was a pretty golden wash across my lids. Would I use it again? Maybe if I felt like mixing up my beauty look.
Kathleen Hou, Beauty Director
Is SPF the new CBD? Can we just add it to everything? Sort of, but I'm not upset about it. I don't really think our eyelids need suncreen, but SPF is (generally) considered to be good for you, so why not. SPF aside, this is a nice, easy product to use. It has a slightly mousse-y texture that doesn't feel slimy or sticky, and somehow manages to be blend easily without bleeding everywhere. It reminded me a lot of RMS Beauty's Cream Eyeshadow.
The Sunset color looks like an intimidating deep, bronze-y mahogany in the tub, but on the eyelids, it turns into a pretty fade. With a little bit of rubbing, I was able to create a subtle, very soft smoke effect that didn't make me look like I followed a paint-by-numbers smoky eye tutorial. It gave my eyes the slightest hint of definition, so they looked more awake and polished. The other Kacey Musgraves–sounding shades like Golden Hour and First Light were unfortunately too light and chalky to go on my eyes, but might make a good highlighter. I'd recommend this to any regular eye shadow wearer.
If you buy something through our links, New York may earn an affiliate commission.