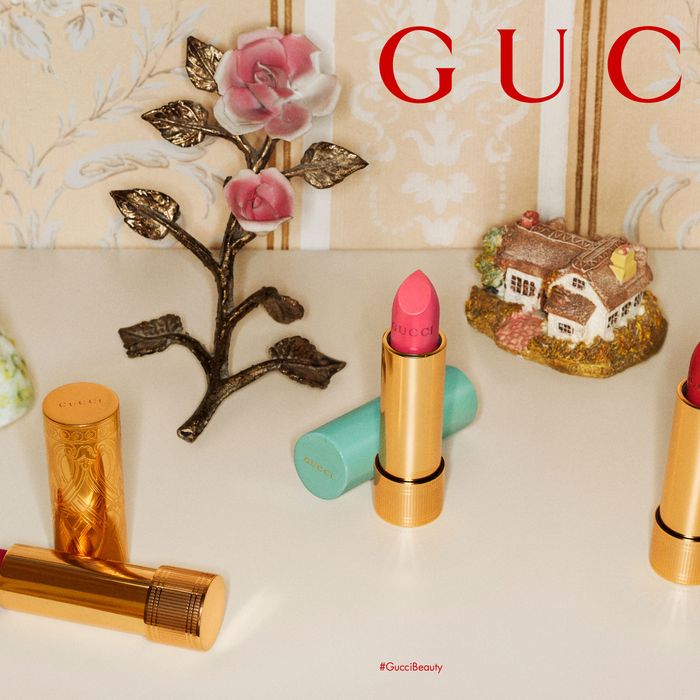 A few weeks ago, Gucci birthed 58 new lipsticks. Both mother and children are doing well, despite a little internet flare-up. The first beauty collection from designer Alessandro Michele, the lipsticks come in many, many shades ranging from nudes to reds to black, in sheer, satin, and balm finishes, all with a slight violet scent. Several Cut staffers uncapped and recapped multiple tubes to find their favorite shades. Here's what they thought.
Erica Smith, beauty writer
I am a fan of this. The formula feels lightweight and creamy and it has such a good glide, which makes it super easy to apply. The formula is also very buildable and customizable, which got me three different "looks" in one day.
On my first application (pictured), I did a single layer and was left with a rich berry shade. After some blotting and eating, it faded into a lovely stain that was surprisingly even — it looked very intentional, with no flaking or crease lines. I decided to reapply later in the day, and it built into this super dark and dramatic 1920s flapper lip situation.
The only thing I could do without is the fruity/floral scent, which started to give me a headache.
Madeleine Aggeler, staff writer
The perfect nude lipstick is my white whale. Bare, my lips disappear into my face and I look like that disapproving flat mouth emoji or someone who died several days ago. But it's hard to find the lipstick that's just the right color of "my lips, but better." This Gucci lipstick in "The Painted Veil" was exactly that. The rose gold color makes it look like I actually get blood flow to my mouth. It glides on smoothly, and the texture feels soft and nourishing, more like a lip balm than a lipstick. It didn't have the best staying power of any lipstick I've ever tried, but the case with the flowers on it is extremely cute, so I didn't mind pulling it out of my purse several times during the day to reapply.
Wait, Moby Dick kills Ahab in the end. Whatever, I still love this lipstick.
Jane Larkworthy, beauty editor-at-large
I lean very old-school when it comes to Gucci. Like, 1970's Gucci, when the signature green and red stripe were on the loafers and wallets of my rich classmates' parents. So I was pretty psyched when I saw that the new lipsticks bore retro filigree and floral casing (personally, I would have preferred them really retro with the stripe wrapped around the tubes, but you can't have everything).
After uncapping at least a dozen of their 58 tubes, I finally found my category: The nudes. I selected a shade I think is called Carol Beige (the font on them is impossibly tiny), a taupey nude that has maybe the tiniest bit of greige in it. It applies super smoothly and feels satiny and moisturizing on my lips, and the color stayed on pretty well. One thing I'm not into is the violet fragrance, which I think is too powdery and grandmother-y. But, from what we know of Alessandro Michele, that part was probably ironic.
Callie Beusman, news editor
I am not a big lipstick person; I feel it always wipes off immediately, which I guess shows that I am ingesting things or rubbing my mouth on objects with an alarming frequency. I normally wear lip stains or liquid lipstick (and by "liquid lipstick" I mean "a Kylie Lip Kit my friend gave to me last year"). I chose a hot-pink color of the new Gucci line, even though I usually wear more neutral tones or goth-adjacent shades, because I recently went into a fugue state and ordered several two-piece hot-pink outfit sets from the internet, and I thought it would be nice to be able to match.
The first thing I noticed when applying the lipstick was that it smelled very good. I wasn't sure if this was a normal thing to say about a lipstick, so I googled and it seems that could be. It also applied very smoothly; I liked the texture a lot. It felt nice on, but, as is the fate with every lipstick I use, seemed to wear off fairly quickly.
Devon Sherer, senior producer
I didn't fall in love with this. I picked the sheer lipstick, and its texture is a lot like lip gloss. It stayed pretty sticky for several hours. I did notice that after a couple of hours the color seemed to outline my lips, leaving the middle part not as well covered. Reapplication was easy though, since the formula is so smooth. I chose Mildred Rosewood, and while I was disappointed it wasn't as dark as it looked in the tube, I still like the softness of the deep red. The smell is lovely, too. I don't think it smells like violet but it does smell like really nice lipstick.
Lisa Ryan, senior writer
This exceeded my expectations. I tried the pink shade "Love Before Breakfast," and it went on light, so I put on a few more layers than usual and it looked nice and glossy (and didn't get on my teeth, huzzah!). The only downside is that it didn't last very long when I drank coffee out of a paper cup, but other than that, it was a nice shade I could wear on a casual workday.
Daise Bedolla, social editor
I've had to stop myself from buying lipsticks in recent months because my current collection is basically all the same berry tones (like Flesh Beauty's Fleshy Lips in "Chew.") Gucci's "Goldie Red" is so far from the lipsticks I normally gravitate to. It's the kind of red that demands attention. I haven't gotten to that level of self-confidence with my lipstick and was immediately reminded of that when I put it on. I'm not sure that this is the best red for my skin tone so I settled on blotting it to achieve more of stained look. Funny enough, the blotting turned it into one of my regular berry go-to's. I need to work up to wearing the full-on red, but I love how it looks as a stain. Plus, the lipstick goes on very smoothly.
Kathleen Hou, beauty director
My favorite kind of lipsticks are those which come with a good after-party. Any lipstick can look pretty good 15 minutes or even an hour after applying. But what I want is the lipstick that endures from the party to the after-party without getting sloppy and throwing up in a plant. Surprisingly (or maybe not?), that's what Alessandro Michele has created. My shade, Louisa Red, was a slightly satin-y, rich cranberry red tone. Many hours later, its "after-party" shade was a very pretty and evenly dispersed primary red lip stain. As Erica said above, this lipstick's biggest merit that you can get multiple "looks" out of it, which is pretty cool.
While it wasn't the most moisturizing lipstick I've tried, it also wasn't dry and went on the lips with a nice, easy glide. Some people mentioned being sensitive to the lipstick's faint violet scent, but I barely noticed it.