Entrepreneur and fashion influencer Nasiba Adilova grew up in Soviet Russia, where she says no one ever dreamed of dressing a boy in pink or buying unisex clothing for their kids. Today, as a Dallas-based mother of three, she's doing things differently. Adilova is the co-founder of The Tot, a popular content and e-commerce site for parents that offers trusted advice and mindfully curated, safe, non-toxic, innovative, and stylish products. She's a mainstay at fashion shows and has shared her love of clothing with her children — TomTom and Daniel, sons aged 4 and 2, and a newborn daughter named Bella. Here, she shares what she hopes to teach them about style, advice she gives to new moms, and how having children changed her marriage.
How is the way you parent different from the way you grew up?
Everything, I would say. I grew up in Soviet Russia, where you would never dream of dressing a boy in girly colors or letting him have long hair. There was no such thing as gender-neutral clothing. The way I grew up was very much: the males are supposed to be this way, the females have to be this way. You had to have the best grades in school, get the best grades in college, and become a doctor or lawyer or economist, and I would never do that with my children. I want to let them be free to choose and foster whatever it is they want to be.
My boys often wear colors that are traditionally stereotyped as "feminine colors" such as pinks, pastels, and purples. However, to me, it's more about teaching them that they're just colors, and that there is no right or wrong. As they grow, I don't want them to have any kind of preconceived notions that certain things are supposed to be one way or another. The bottom line is that whoever our children are or become, we will always love them no matter what.
How do you get them dressed every day?
I am a big believer in empowering kids to make their own decisions, and this is a big part of their education — being able to help themselves. TomTom, my oldest, is really into sports right now, and he is responsible for choosing his own outfits, sometimes with a little guidance from me. He likes to wear a lot of sports jerseys. I'm the one who curates the closet, but he gets to dress himself based on my choices at this point in time. For now, while Daniel and Bella are still small, I choose their outfits. Pretty much all of their clothes are from The Tot, and I choose pieces that are practical, comfortable, well made, sustainable, and of course, stylish.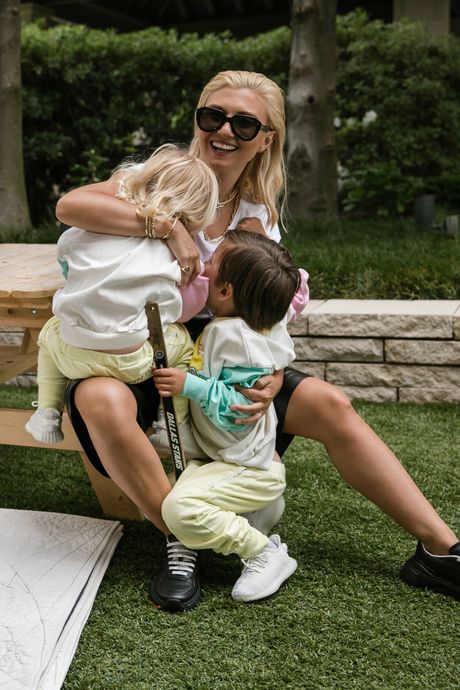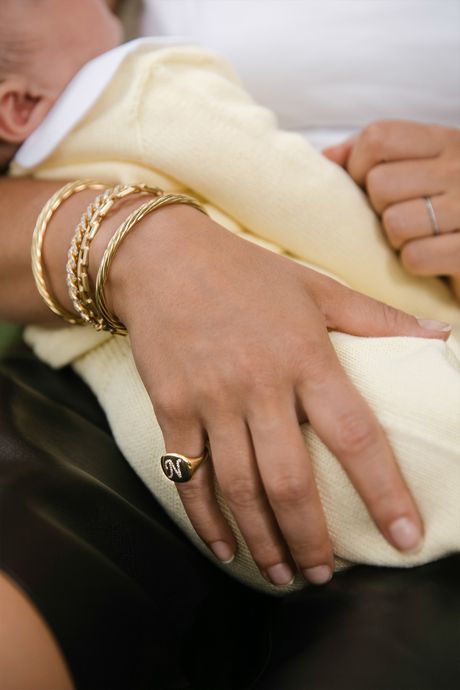 My 2-year-old is obsessed with clothes and shoes — he literally will pull out shoes from my closet and bring them to me and want me to wear them — and he picks out his own shoes all the time and asks to put them on.
What clothes do your kids love the most?
Sweatsuits! We all live in them because they're so comfortable. We sell a lot of them on The Tot, and I think kids need to live and play in comfortable clothes. Plus, sweatsuits are something they can easily put on themselves — no buttons or zippers. I also buy organic, cotton basics that can be worn for easy layering or lounging around the house. This is our favorite range from The Tot. There are so many brands that focus on sustainability, non-toxic chemicals, and hand-dyed, natural fabrics. I love supporting them.
How has the way you get dressed changed since having children?
I've opted for a lot more comfortable choices in shoes — I'm all about low slippers and furry sandals, and I collect sneakers. I used to have these big chunky bracelets that I had to take off because I didn't want to scratch my children while changing them or playing with them. Now I like jewelry that's understated and smooth, especially David Yurman's rings. They have these plain gold, white gold, and diamond bands that make you feel like you have something on — like your hand is dressed up — but at the same time they're not catching on anything. They also have these earrings with soft, rounded edges that I love — my kids can't grab and pull at them.
What is one piece of advice you'd give to new moms?
When I had my first son, I really struggled with breastfeeding until I got an incredible lactation consultant. My son wasn't latching, and we discovered that he was tongue-tied. I would never have known had I not had that lactation consultant, and it changed everything for me.
So if you want to breastfeed, I really, highly recommend hiring a breastfeeding consultant — don't just rely on a hospital lactation consultant because they're in and out of your room and don't spend a lot of time with you. Have them come to you right when you deliver the baby and then once you come home, too, because it will be a different environment. You'll spend a few hours getting the baby latched, and they'll show you all the different holds, explain how to sit properly, and advise you on pumping. I'm still breastfeeding my 2-year-old son along with my 5-week-old daughter because I'm a total hippie at heart.
What kind of activities do you do together as a family?
On the weekends we wake up and always make lunch together, and we go for a walk to the same spot. I also do a date every week with each one of them. My oldest son loves purple smoothies from this juice bar, so we go get the purple smoothies and watch a movie together or go to a museum, a restaurant, some activity where it's just me and him, no other siblings. The little one has a very short attention span, so the two of us will run around, read books, go outside, or bake something. When we do bath time I do really fun creative things, like I'll color the water with non-toxic vegetable-based dyes and put different things in the bathtub for them to discover and play with.
My kids' friends call me Mama Siba and we have playdates a lot where I create special activities for them. We do baking with Mama Siba, arts and crafts or gardening, and my son loves everything athletic so it's hockey, football, basketball, soccer. We do it all. We did a really fun activity where we went in the garden and picked all these different greens and had a magnifying glass and water and ice. We sort of studied them and learned what each one of them was, tasted them, and we cut them with scissors, so it was very tactile and good for motor skills development, as well.
What is…
The most difficult outfit you wore while you were pregnant:
Probably my skiing gear when I was in the mountains — I wasn't skiing, but I went every day with both my boys when they were taking lessons. And then…trying to put on shapewear, that's another level.
An actually good parenting book on your bookshelf:
Masaru Ibuka's Kindergarten Is Too Late. It's so hard to find in the U.S. The author basically became so fascinated with child development that he did years and years of research, working with all kinds of educators to write this brilliant book about the important years before kindergarten. It's one of my favorite books on parenting and child development.
A mom trend you like on social media right now:
The fact that the way we are as moms, we're a lot more open talking about subjects that were so taboo, like postpartum depression, IVF, and miscarriage, and talking about it. Also: talking about the fact that I'm not a perfect parent sometimes. Especially with a lot of social issues coming up about being a woman and valuing yourself as a woman — as a mother, I really am loving this time.
The ideal place for family time in your house:
We hang out around the kitchen table because we love eating. We also have this beautiful, magical playroom that our kids love where we spend all of our time. When we're home, we're there.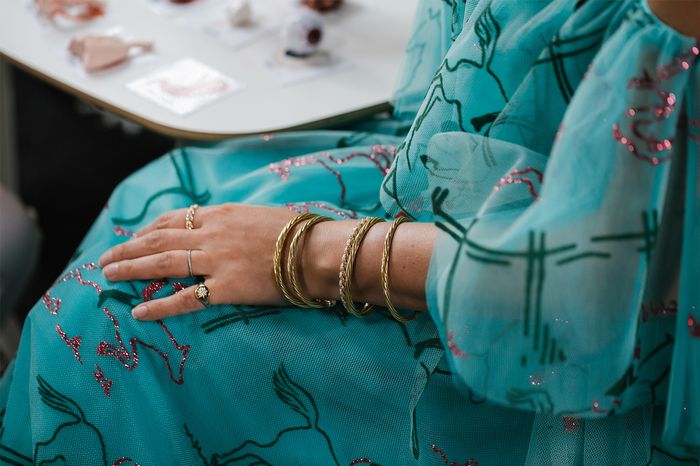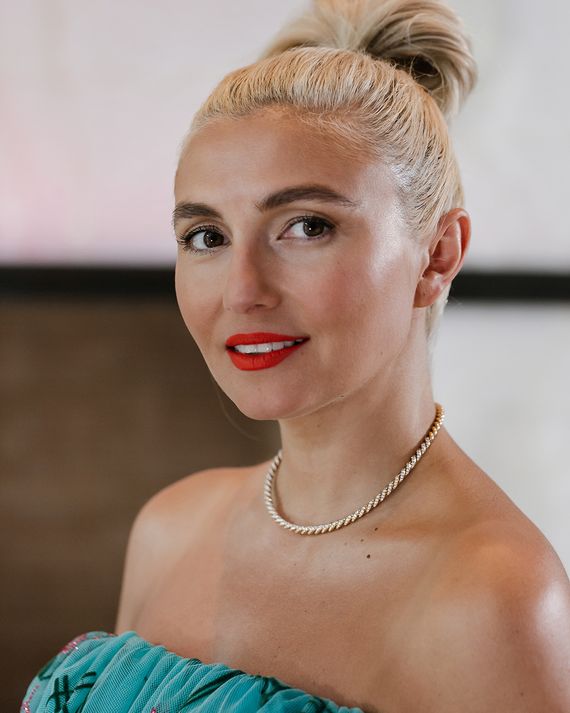 One thing you've learned about marriage since having kids:
Every time I had my babies it felt like I fell in love all over again with my husband, and it brought us closer. It hasn't really changed our relationship other than that we have much less time for ourselves as a couple, but we're both obsessed with our kids and creating a family. That for us matters so much that we're like, they're so little for such a short period of time that we just want to be with them, do everything with them, dedicate ourselves to them. Time is the most incredible asset.
Shop Nasiba's Favorite Pieces
*This interview has been edited and condensed.
This is paid content produced for an advertiser by New York Stories. The editorial staff of The Cut did not play a role in its creation.