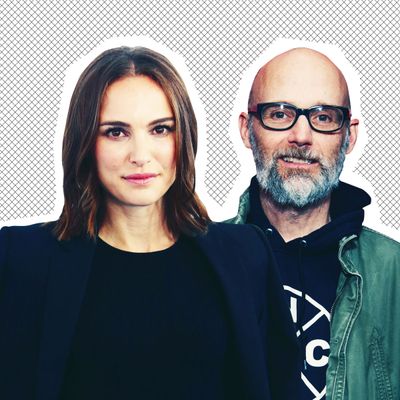 Moby wrote in a new work of memoir (or, perhaps, autofiction) that he and Natalie Portman dated briefly when she was 20 and he was 33, after a flirtatious episode in his dressing room. This week, Portman responded, saying she briefly knew him as "an older man who was interested in me in a way that felt inappropriate." Oh, and she was 18 at the time, not 20.
The musician's new memoir Then It Fell Apart sets him and Portman "kissing under the centuries-old oak trees [at Harvard University]. At midnight she brought me to her dorm room and we lay down next to each other on her small bed. After she fell asleep I carefully extracted myself from her arms and took a taxi back to my hotel." By his own account, the Ivy League bodice-ripper met its end because, "I wanted one thing: for me to be alone … nothing triggered my panic attacks more than getting close to a woman I cared about." In this highly implausible scenario, all that stood between Moby and a romantic relationship with Natalie Portman were his own very nuanced intimacy issues.
In an interview published in Harper's Bazaar on Tuesday, Portman disputes Moby's claims, saying the two never had a relationship but that he did creepily hit on her when she was barely 18:
"I was surprised to hear that he characterised the very short time that I knew him as dating because my recollection is a much older man being creepy with me when I just had graduated high school. He said I was 20; I definitely wasn't. I was a teenager. I had just turned 18. There was no fact-checking from him or his publisher — it almost feels deliberate."
On Wednesday, Moby responded on social media, insisting that his account was accurate. He took to both Twitter and Instagram, claiming to have "lots of corroborating photo evidence" to back up his side of the story; accompanying the post is an undated photograph of the musician with his arm around a young Portman — which doesn't do him favors in the creep department. The post does not even begin to address the fact that what he saw as "dating" she saw as "creepy," as well as their differing opinions of Portman's age at the time.
Dudes need to stop instrumentalizing Natalie Portman's immense talent and charm to sell books.
This article has been updated.