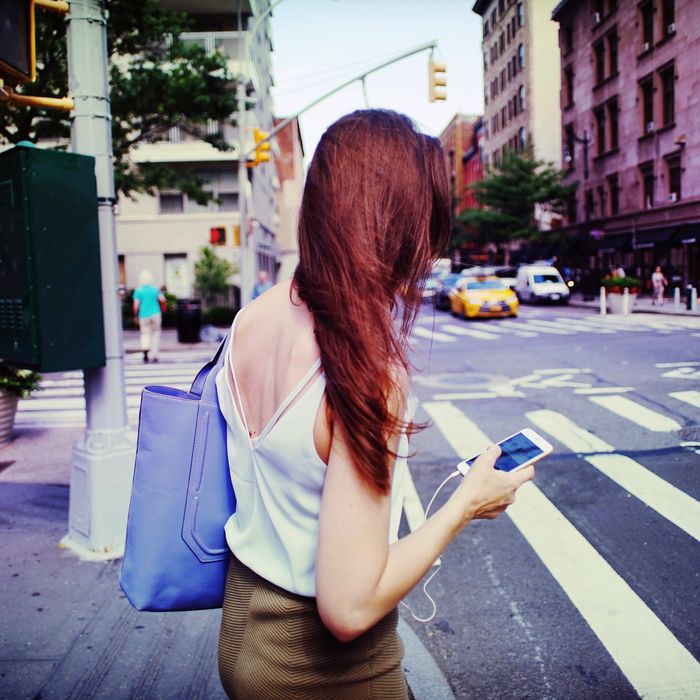 Photo: secret agent mike/Getty Images
It's not easy to get around New York City: The subways rarely work, traffic is horrendous, it has a serious problem with accessibility, and the sidewalks sometimes get so packed that you can basically only operate at a snail's pace. And now, New York's state senate is considering passing a law to ban people from texting while crossing the street — and issue fines to those of us whose faces are buried in our phones as we commute.
While it's arguably a good thing for people to pay attention while crossing the street — even if we have the right of way — the bill, introduced this week in the New York senate, polices that level of care. As the Guardian reports, New Yorkers may soon be fined $25 to $250 if cops catch them "using a portable electronic device while crossing a roadway." The bill includes exemptions for emergency response operators and employees of hospitals, doctors's offices, or fire departments, and others, but the rest of us would be subject to it.
Around 300 pedestrian fatalities occur annually in the entire state of New York, per the Guardian. (It's unclear how many happen because of texting.) New York state senator John Liu, who introduced the ban, said he hopes the bill will lower that figure. However, it's already being slammed by activists; Marco Conner, the interim executive director of Transportation Alternatives, called it "a terribly misguided bill" and "victim blaming in disguise." He also expressed his fears it could lead to increased racial discrimination by police. "It's a recipe for subjective and discretionary policing."